Access exclusive sales & technical training as a Borg & Overström distributor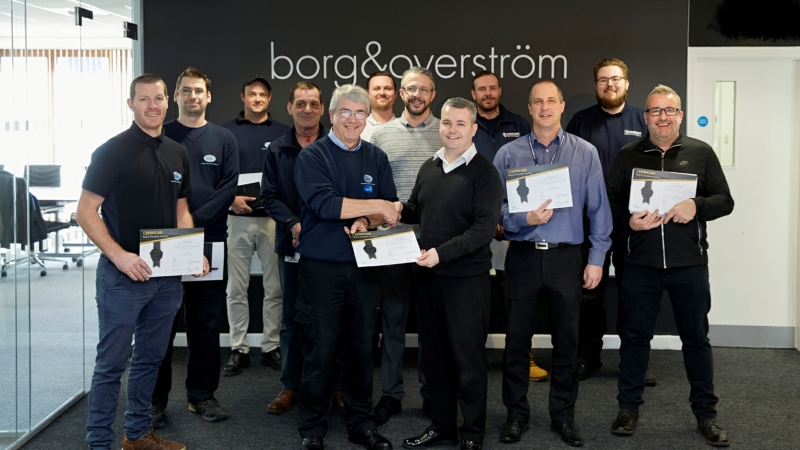 When you become a Borg & Overström water cooler distributor, you gain access to almost two decades of market knowledge and expertise.
Over the years, we have refined our sales and marketing approach and invested in ongoing product innovation. As a result, Borg & Overström has expanded around the world and achieved consistent double-digit growth. And we don't keep these secrets to ourselves. We share them with our carefully selected distributors so they can also enjoy success in their business.
How we help you grow your business
Our mission is to empower our partners to achieve more. That's why everything we do focuses on the future success of our partners – from expert sales and technical training, to lead generation, quality-assured products, and ongoing innovation.
We call our distributors Partners because we believe in collaboration. We have never sold direct to end users – and never will. In fact, we seek to drive new business leads for our Partners.
1. Superior training & support
Our training programmes ensure all our Partners have the knowledge and skills to confidently grow their businesses and provide the highest level of service to customers.
From our facility in Manchester we provide specialist training from sales and marketing, through to detailed product training, and technical certification for service engineers. In addition, every Partner is assigned an Account Manager to provide ongoing support and guidance.
"The experience here at the Borg & Overström Academy is amazing. It's very informative. I've learnt a lot today." Bruce Orme – Wenlock Spring
2. Full marketing toolkit
Finding the time, expertise, and budget for marketing can be difficult for many businesses, so we make it easy. We provide Partners with the tools they need to market their business effectively, such as:
Personalised printed brochures
Showroom display materials
Photography
Videos
Social media graphics
If needed, one of our experts can also join Partners on site visits to help win new customers or better serve existing ones. We also supply trial units so prospective customers can experience the full benefits of a Borg & Overström refreshment system.
3. Quality products designed & manufactured in the UK
Our products have unrivalled reliability and come with a standard 12-month warranty – five and three-year extended warranties are also available. Every dispenser is checked and pressure-tested up to 12 bars (higher than required) to ensure it is in perfect working order before it leaves the warehouse. Spare parts can be delivered next day from our local stockists, if ordered by 3.00pm.
"We are proud to stock and supply Borg & Overström products." Bruce Orme – Wenlock Spring
4. We are committed to ongoing innovation
Innovation is one of the secrets to our continued global success. Whether it's improving production, designing new cooling systems such as Dry Chill™, or making our products even safer like our Totality® Hygiene System, we aim to keep our products at the leading edge.
Our rolling programme of design and development is based on market research and analysis of the changing trends in workplace design and refreshment. We will continue to introduce new innovations giving Partners a regular stream of opportunities to grow their businesses.
5. A strong environmental & ethical code
We maintain awareness of the environmental and social implications of our actions, from reducing waste in our supply chain, to carefully selecting suppliers, or doing what is right by our employees.
As a company we are committed to recycling our electrical products, as outlined in the WEEE (Waste Electrical and Electronic Equipment) legislation 2007, under which we are registered and compliant.
We are also certified ISO 14001 for our Environment Management Systems, but our ambition is to go further. Our reusable personal drinking bottles and biodegradable cups are designed to kickstart change in our industry.
How to become a Borg & Overström Partner
We welcome applications from potential Partners who reflect the Borg & Overström culture of excellence and aspire to provide the finest water refreshment system. Our network of Partners extends across the UK, Europe and North America.
Find out if you qualify to join our Partner programme. Register your interest by completing our short enquiry form and we'll be in touch.