Engineering the modern watercooler moment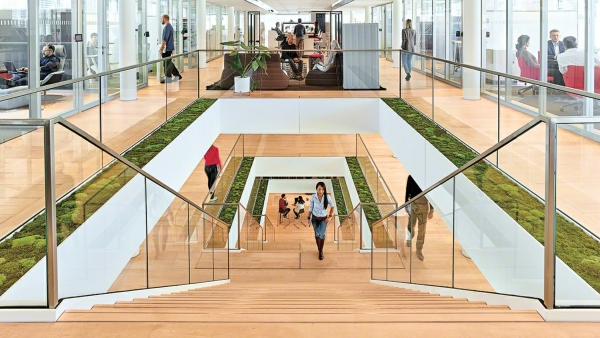 Photo courtesy of Steelcase.
When was the last time you actively sought out a face-to-face chat with a colleague? Maybe you hung out on Google or Zoom. If that was too personal you probably emailed them or, better still, Slacked them.
Technology is changing the face of modern workplace design. The result? Fewer serendipitous corridor chats and watercooler moments. Technology continues to be a huge driver of change in business. As people are becoming more agile in their working habits, employers are waking up to the fact that fewer face-to-face interactions are happening.
On the plus, businesses are getting more creative with their workspaces resulting in innovate and flexible workplace design. Gone are isolated workstations, beige paint and the tea trolley. In their place you're more likely to find a Barista-style coffee station, lounge areas, open plan seating and inspirational artwork – and perhaps the odd pitch and putt green or slide.
Accidentally-on-purpose workplace design
Engineered serendipity, agile workspaces, employee experience design… Whatever you like to call it, workplace design has never been more of a hot topic, and this trend is set to continue throughout 2019.
According to research by design agency Cognizant the workplace environment is integral to business goals. In their research, 40% of respondents had reconfigured their workspace to improve workflow and flexibility resulting in increased productivity, organisational agility and higher rates of employee creativity and innovation.
At Borg and Overström we encourage accidental meetings between employees via our breakout areas. We have several tea-points – water dispensers of course – throughout the building. Our one main lunch area is a great place for mingling with people from different departments. We also hold regular thought-shower sessions where employees from across the business are invited to participate – even if the subject being discussed is not directly related to their department – just to get a completely different viewpoint.
But what if you have a lot of remote workers, flexible working arrangements, or a very large workforce that only meet occasionally?
Change the structural layout
One of the early pioneers of engineered serendipity was the entrepreneur Tony Hsieh, CEO of online shoe retailer Zappos. He believes that "the best things happen when people are running into each other and sharing ideas".
Famously, Zappos decided to close off three of its four exits. The idea was to funnel people through the same exit to increase the likelihood of accidental meetings. "It's more inconvenient," Hsieh explained, "but we prioritize collisions over convenience".
Steelcase took more extreme measures in its LINC building. As providers of architecture, furniture and technology products, LINC is part design studio, part office and part client showcase and is designed to discourage silos and facilitate accidental meetings. "The design intentionally gives people all sorts of opportunities to get up, walk around, bump into each other, grab a spot just to talk or work through something together."
Perhaps the most unusual and most distinctive design feature is its staircase. It's 50% wider than you would expect and crosses four floors without turns. Glass panels give clear visibility of the staircase and each floor. Steelcase says that "unlike an elevator, it's an encounter spot for spontaneous conversations".
Provide a variety of workspaces
The one-size fits all office environment is being replaced with flexible working spaces that give employees areas for different styles of working. The great thing about providing a variety of work spaces is that movement between these areas increase the chance of accidental meetings, but also means different people can work or sit together.
It can also increase wellbeing. According to research conducted by Steelcase although 77% of people in their research had an assigned workstation, 87% spent 2 to 4 hours working somewhere else. A key driver for this was wanting to escape the monotony of working in the same place.
When consulting firm Gerson Lehrman Group redesigned their New York office, instead of a desk, employees were given a locker and a variety of spaces to choose to work in. These included a café bar area, lounges as well as meeting rooms. Boston Consulting Group's Seattle office looks more like a hotel than an office with an open work lounge, multi-use work café-style break room, and focused areas for quiet work.
The open plan office with flexible working spaces has resulted in innovative furniture designs and storage solutions. Spacestor for instance build storage walls that provide much needed storage in agile workspaces, which can also be used as dividers to split the space up.
Introduce healthy group activities
Employee wellness and happiness continues to be a priority for many businesses, resulting in creative wellness programmes. Healthy group activities are also great opportunities to bring people together increasing the opportunity for serendipitous conversations.
Desk-based treadmills were all the rage this year, but if that seems a bit extreme Yoga or Pilates classes continue to be popular workplace activities. Walking meetings are also a great way to get some exercise and encourage interactions between colleagues.
RBI, a large information company, set up a 30-day challenge to encourage employees to move more. Participants were encouraged to work in teams and track their activity online. As a result, people started to include more movement in their working days such as taking the stairs, walking over to talk to colleagues rather than using email and engaging more walk and talk meetings. In addition, there were a number of teams made up of members from different offices.
Give employees choice
Ultimately, it's about choice. Designing the modern working environment means giving employees the choice over where they work and control over their working environment. It's no longer just about the aesthetics. Businesses need to also think about wellness, community and environmental values in order to attract and retain talent and to encourage a productive and happy workforce.
Who knows, perhaps your next big idea will come from a serendipitous meeting between employees?