Introducing the Borg & Overström T2 tap system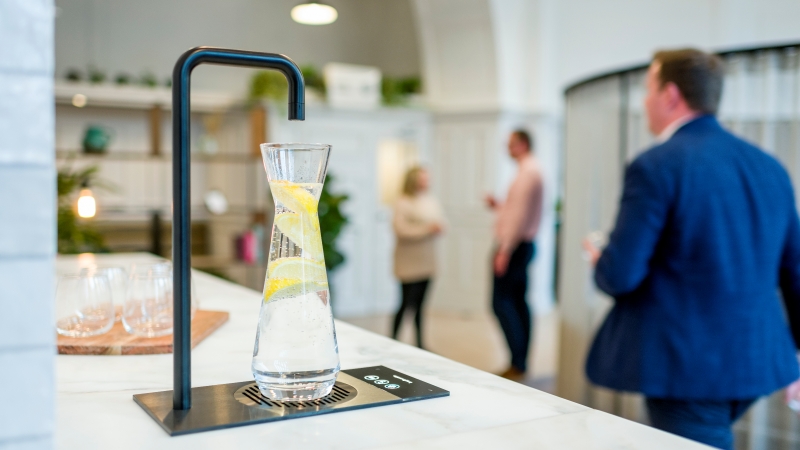 The T2 is a bold yet practical integrated tap system for modern offices and communal workspaces. It's packed with digital technology for advanced performance, energy efficiency, and hygiene.
Digital precision
The T2 is a next-generation high-capacity digital water dispenser. It combines some of the most advanced dispensing technology with a contemporary design to complement any work area, or communal space.
Refined hydration
The T2 has sleek lines, a contemporary profile, and is finished to the highest standard. With a built-in drip tray and 310mm dispense area for refilling bottles and jugs, it's also a highly practical solution for modern workplaces.
Advanced UV protection built-in
This countertop water dispenser can be factory fitted with the Viovandt™ advanced ultraviolet water disinfection system. Viovandt™ is a mercury-free and chemical-free UV water purification system for water dispensers. This maintenance-free technology uses powerful UV-LEDs to inactivate harmful microorganisms present in the water.
For complete peace of mind, the T2 also includes additional hygiene features via Borg & Overström's Totality® methodology.
Hygienic dispensing
The discreet digital touch panel has an antimicrobial coating which helps prevent the transmission of germs via touch.
It's also Bluetooth® enabled for mobile app dispensing of chilled, ambient, or sparkling water. The app enables users to dispense water touch-free, making it ideal for use in high footfall locations such as offices and factories.
Powered by ProCore™
The undercounter ProCore™ system is compact and easy to install out of sight. It's also low maintenance and fitted with the new eco R290 gas. The colour-coated GreenCoat® steel construction makes it sustainable and durable.
Easy-to-fit ventilation kit
A discreet, compact ventilation kit is included with this system, which further increases the efficiency of the ProCore™ by allowing a continuous cycle of cool air. It's easy to install, requiring just one hole to be cut in the cabinet base where it cannot be seen.
Energy-efficient
The T2 is consistently energy efficient, making it both economical and eco-friendly. It's also fitted with a low light sensor which sends the appliance into standby mode when the room is unoccupied. The appliance will also enter standby when left unused.
To order the T2 visit the store, or contact your local distributor.