Touch-free water dispensers: a pivotal innovation
Businesses have accelerated digital initiatives by an average of seven years due to the pandemic, says McKinsey & Company. As a business, we may not have leapfrogged by seven years, but certainly three to five.
The catalyst for our accelerated innovation is touch-free water dispensers. We had to speed up existing developments and take new products to market sooner than planned.
"We've deepened our understanding of the software capabilities within our sector," says Dan Lyon, Managing Director. "We've developed products further, faster, and once again are raising the bar for water dispensers."
In addition, the biggest barriers to touch-free water dispensers have been removed. First, the need and desire for touch-free dispensing, and second the acceptance of new technology.
More people for instance regularly use their mobile phone to make payments or to check-in at venues via QR codes. This makes Bluetooth® app control a viable and desirable solution.
Types of touch-free dispensing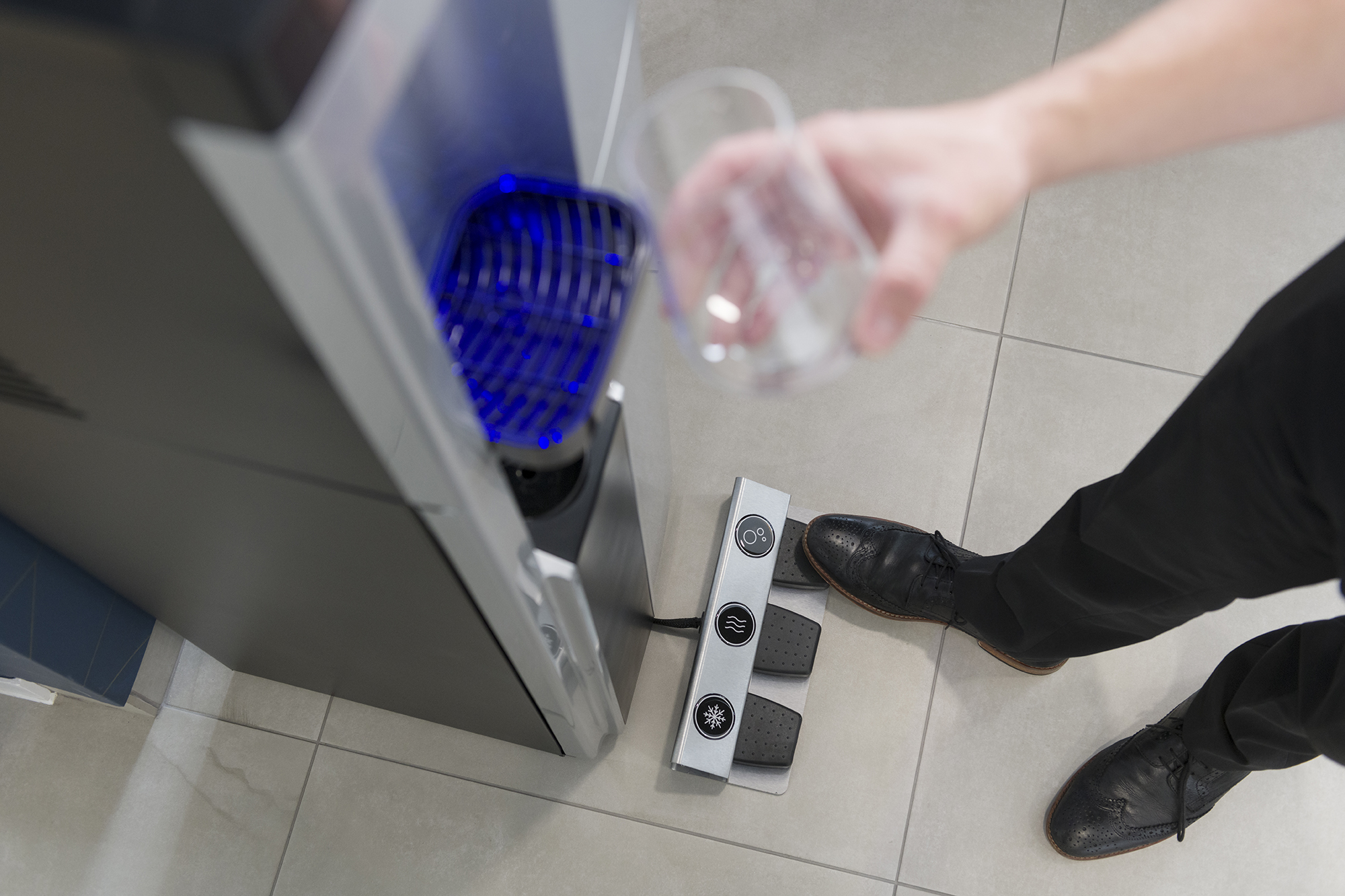 There are currently a variety of touch-free solutions available. Some are built-in, while others can be retrofitted to existing units. They fall into three main groups: mechanical, motion sensor, and Bluetooth®.
· Mechanical footswitches are wired into the water dispenser. Water is dispensed by pressing down on a lever with your foot.
· Motion sensors are operated by waving or holding your hand over the sensor. Water is dispensed in the same way as you would operate a touch-free tap in a restroom.
· Bluetooth® is a mobile technology that may already be familiar to many people. It's the technology that your phone uses to connect to a remote speaker or your car's audio system. A user download's an app to their phone, enabling them to dispense water using their phone rather than a tap or touch screen.
The most exciting developments are still to come
People are far more aware of contact with commonly touched surfaces like light switches and door handles. We think this awareness will remain for some time and don't expect demand for touch-free water dispensers to decline soon.
Touch-free water dispensers give users alternative ways to interact that don't just rely on touch. We'll continue to design solutions that give users peace of mind and the confidence to use our products. The most exciting developments are still to come.
In our purpose-built R&D lab the team are rapidly prototyping new products using their 3d printer. Sustainability, energy efficiency, and hygiene are critical drivers of new products launching in 2022.
If you'd like to know more about what we're working on, contact your account manager.