How can a Borg & Overström installation kit maximise efficiency?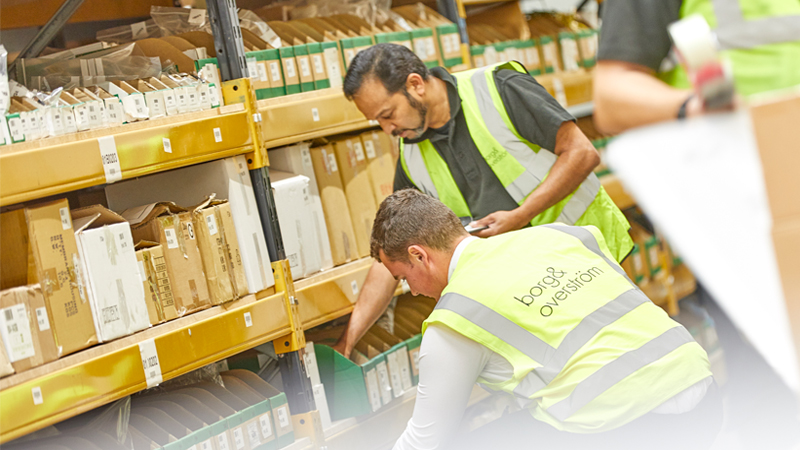 Put yourself in an installer's mindset for a moment.
You arrive at work ready to install a brand new water dispenser. A task that perhaps includes the installation of 3 or 4 other products. You work out the situation very early on. Talk to the facilities manager, locate the place of installation, open up your tools to start the installation process, and… connections X, Y, and Z are missing from your tool box…
Welcome to an installer's nightmare.
As a design-led manufacturer of premium water dispensers for over 20 years, our time in this ever-changing water refreshment industry has provided us with the experience to know speed and proficiency in the customer's eyes is crucial.
But we also understand that this can be a hard task to fulfil. Often, things can happen beyond your control, inevitably leaving your customer, even your on-site team, dissatisfied through no fault of your own.
Here at Borg & Overström, we want to place you in complete control.
Our installation kits eliminate the supply concerns for on-sight technicians and assure everything essential is included for a swift and seamless installation process.
In this article, we take a look at what exactly a Borg & overström kit is, and the ways in which our installation kits can help you save time, money, and demonstrate a visible efficiency to your customer.
How will a Borg & Overström installation kit help you?
If we consider the installation process in its entirety, there is a chain of efficiency that quickly becomes apparent: from distributor, to the installation technician, all the way through to the consumer. Making each transition of installation as simple as possible can offer a variety of benefits.
The aim of any technician is to achieve a quick and easy installation process and to be as efficient as possible. In doing so, this process is commonly seen as a reflection on your businesses own ability to provide the best service available.
Therefore, the ease of installation and efficiency provided should offer a swift and seamless install to show your proficiency to your customers.
With a Borg & Overström installation kit, the technicians can arrive on site knowing that all the connections required have been included.
Our complete first time install kits are specified and checked to include exactly what the technician/installer will require, bespoke to the particular model's installation requirements.
So, how does an installation kit provide peace of mind?
Knowing everything is included for a first time install provides your team with complete reassurance that you've got everything needed to get the job done.
The last thing you want is for someone in your team, perhaps an on-site technician themselves, to have to journey into a busy city, town, or retailer, only to spend their valuable time (and further expense) on a single, one-off connection that was missing.
When using a Borg & Overström installation kit, your on-site technician is provided with everything they'll need in a box. The result? Speed and efficiency for you and your customers.
What is included in an installation kit?
Achieving a world-wide presence means delivering a world-class standard. We understand how vital it is that the installation of your water cooler dispenser is carried out as quickly and as methodically as possible.
As such, each installation kit provides everything specific to your needs.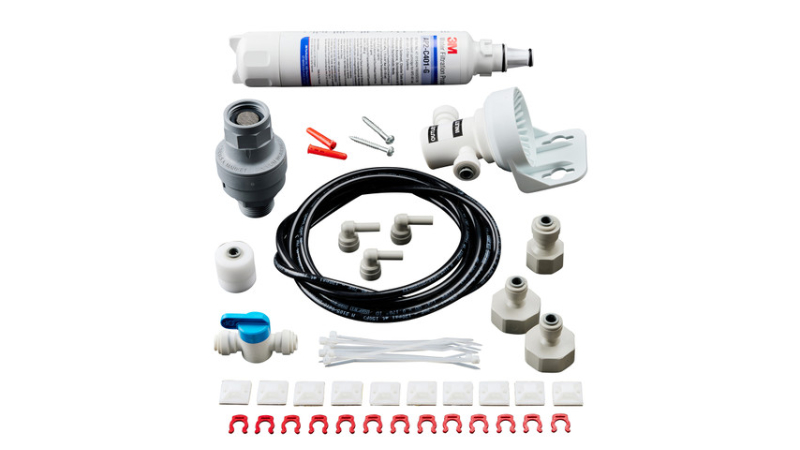 Installation kit with 1/4" fittings including 1 micron carbon block filter
View the full contents
Here is an example of a Borg & Overström installation kit. This content includes:
1 x 3M 1-Micron Filter Cartridge (AP2-C401-G)
1 x Reducing Bush 3/4M x 1/4″ Push-Fit
1 x Waterblock (2-30 Litres/minute) Leak Prevention Device 3/4″ BSP (British Standard Pipe) x 3/4″ BSPM (British Standard Pipe Mechanical)
2 x Metres 1/4″ Black Pipe
1 x Female Tap Adaptor 1/4″ Push-Fit x 1/2″ BSP
2 x Female Tap Adaptor 1/4″ Push-Fit x 3/4″ BSP
1 x Stem Elbow 1/4″ x 1/4″ Push-Fit
1 x Shut Off Valve 1/4″ Push-Fit
1 x 3M AP2 Filter Head (including wall fixings)
13 x Locking Clips 1/4″
10 x Cable Tie Mount Block
10 x Cable Ties 100mm x 2.5mm
In this example, you can see that the installation kit provides everything your technician needs to be as efficient and labour-saving as possible. An assurance that the installation can be carried out without any hiccups.
How do I find the installation kit for a specific model?
Every Borg & Overström installation kit is assembled specific to your model's requirements.
Because of this, we offer a variety of different installation kits that can vary depending on your specific model and functionality.
Included in a select few installation kits are specific filters. But what are the benefits of a water filter? From necessity to warranty, our account manager Oslo Barnes answers all your questions on how using a filter can lead to both cost-effective and sustainable benefits.
You can find the correct installation kit for your water dispenser by visiting our store. By using our filter mechanism (available only in our store) – finding the installation kit for you has never been easier!
If you're left with any questions about your water dispenser, parts, or accessories – contact us – our expert staff are ready and waiting to help you.