Borg & Overström awarded silver EcoVadis sustainability rating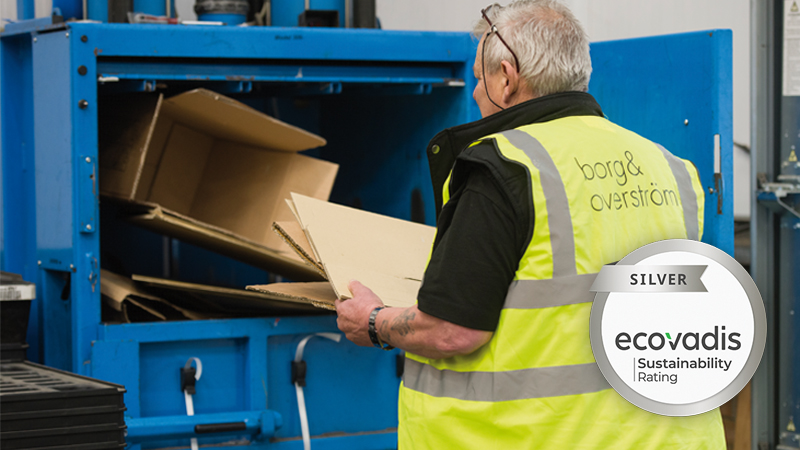 EcoVadis is a trusted provider of business sustainability ratings and is helping companies worldwide to benchmark and drive improvements. We're delighted to have received a silver rating on our first application to EcoVadis.

Our sustainability journey began with the elimination of bottled watercoolers from our product range. We followed this up with innovations including more efficient cooling systems and redesigning our packaging so everything is recyclable on-site.
We've since made more significant – and continual improvements to our products, and manufacturing and business processes. Advancements include powering our manufacturing plant with renewable energy, ensuring our head office is landfill-free and nearshoring our supply chain.
The EcoVadis silver rating is confirmation that the changes we've made, and continue to make, are above average for our sector. EcoVadis' platform, universal scorecard and performance improvement tools are used by over 100,000 companies worldwide.
Their assessment model measures seven management indicators across 21 sustainability criteria in four themes. Companies receive a scorecard with benchmarks and detailed feedback on their strengths with suggested areas for improvement in each theme.
Environment
Labour and human rights
Ethics
Sustainable procurement
Having completed the assessment, we can see where to develop our sustainability practices further. It's also enabled us to assess our supply chain more efficiently and made it easier for Borg & Overström partners to evaluate our sustainability credentials as part of their procurement process.
While we've made good progress, as demonstrated by our scorecard, we know there's more we can do to advance our sustainability practices. With the support of EcoVadis, we're working towards the gold rating, then platinum rating.
Send us a message via web chat, or get in touch via email or phone if you'd like to know more about EcoVadis or our sustainability practices.