Redesigning coffee to-go from the ground up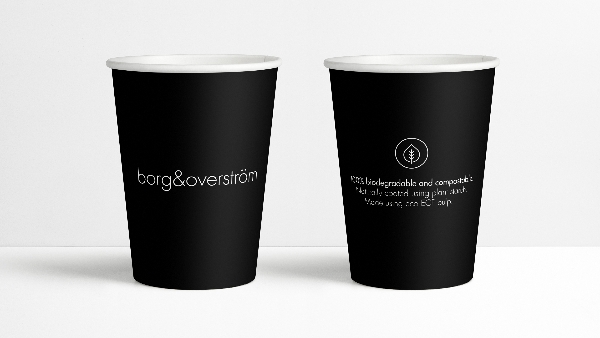 In 2007 an exhibition opened at the Cincinnati Museum of Art called "Caution: Contents Hot!". Featuring over 30 plastic cup lids it represented over 70 years of innovative design. Now the lid, the disposable cup, and the entire supply chain are being radically redesigned.
Apart from quitting take-away drinks, there's no straightforward way of stopping disposable coffee cups and lids going to landfill. The only way to solve it is together. This is happening in cities, small towns, independent cafés and large coffee chains around the world.
Recycle
Disposable cups are recyclable. In fact, in 2018 Starbucks recycled 25 million paper cups into new ones to prove that it can be done cost-effectively.
Recycling the material is only part of the problem. Disposable cups are rarely thrown away at point of purchase. They are often disposed of in street bins or at home. This makes collection for recycling particularly difficult.
Cities, universities – even Lords Cricket Ground in London – are tackling this challenge with a recycling infrastructure that includes dedicated bins and collection services.
Glasgow's Cup Movement
Earlier this year the charity Keep Scotland Beautiful and the Paper Cup Recovery and Recycling Group (PCRRG) launched the country's first cup collection scheme.
The Cup Movement will work with local authorities and private businesses in Glasgow to improve the recycling infrastructure for single-use cups. It will also raise awareness and encourage people to change their habits.
According to PCRRG, in the last 2 years UK coffee cup recycling rates have increased from an estimated 1 in 400, to 1 in 25. By the end of 2019 PCRRG expect this to have increased to 1 in 12.
Reinvent
With no one-size-fits-all solution to the recycling challenge, could reinvention be the answer to this waste problem? One of the big issues with disposable cups is the plastic lining.
This makes it more difficult to recycle and it takes around 30 years to decompose. But new materials are already being used to make cups biodegradable and research is well underway to invent more.
NextGen Cup Challenge calls for innovative solutions
In 2018 teams from around the world entered the NextGen Cup Challenge. The brief was to design the next generation hot and cold fibre cup system. Ideas could include cup lids, sleeves, straws, and consider reuse and alternative delivery systems.
Almost 500 submissions came from over 50 countries. 12 entries received a share of up to $1 million in funding. Winners included plant-based products that biodegrade after use and home compostable cups.
Return and re-use
You'd think the obvious answer is to get rid of disposable cups and for each of us to buy a reusable one. But to get rid of single-use cups altogether, we'd all have to remember to carry our cup with us at all times.
The Freiburg Cup
The city of Freiburg in Germany has solved this problem with its returnable cup scheme. Customers pay €1 for a Freiburg cup, which they get back when they return it to a participating business. Scheme members must wash and disinfect the cups ready for reuse.
Around 70% of the city's cafés have joined the Freiburg Cup scheme. 26,000 cups have been provided, with around 15% being unredeemed, as tourists or visiting students like to take them as a souvenir.
Ban it
Boston Tea Party is the first chain to ban single-use coffee cups. Based in Bristol, UK it has 22 stores. The company usually sells £1m in takeaway coffees per year but it is down 25%.
Despite the expected loss the company remains 100% committed to the ban. Boston Tea Party admit that a ban is probably a bit extreme for most small businesses. We don't expect to see many more businesses following suit.
However, since June 2018 Boston Tea Party has stopped 125,000 cups going to landfill, sold 40,000 reusable coffee cups, and donated the £12,000 saved on cups to charity.
How we are reducing cup waste
At Borg & Overström we're also doing our part. We recently replaced our plastic cups with biodegradable paper ones. These cups are made from elemental chlorine-free pulp and coated in Poly Lactic Acid (PLA), which is made from vegetable starch rather than plastic.
In 2018 we also re-designed our B3 and B4 water coolers to make refilling bottles more convenient. Most recently we launched a new range of reusable drinking bottles.
Design and innovation are at the heart of solving the world's waste problem. We're looking forward to seeing more innovative materials, recycling and reusable schemes in the future.
Borg & Overström water coolers, cups, and refillable drinks bottles are available through our trade distributors.