Why your coffee offering isn't complete without a water dispenser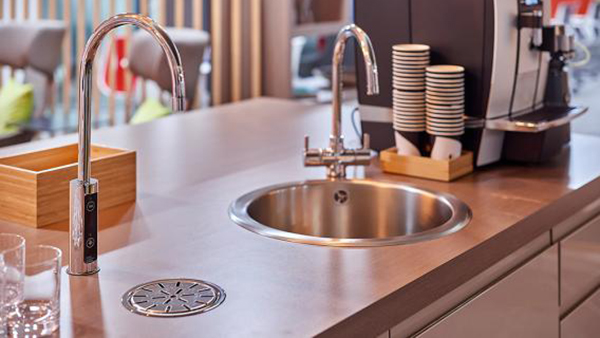 We know that the coffee machine is a cornerstone of any office, providing, not just a source of energy, but a place for workers to socialise and relax. However, a kitchen isn't complete with a coffee machine alone, that's why in this week's blog, we'll be discussing why your kitchen needs a water dispenser alongside your coffee machine.
Upgrade the water you use in your machine
The average cup of coffee consists of 98.75% water, so the quality and composition of the water used to brew your coffee is highly important.
Coffee flavour can be found within the oil of the coffee beans themselves, which is enhanced when coffee grounds are mixed with water. Water from different regions, that have been stored in different ways, have different mineral contents which affect the taste of the coffee. For example, If the mineral content is too low, your coffee may taste slightly bitter. A good coffee-making water will be rich in both calcium and magnesium.
Regardless of mineral content, the water you use when making coffee should always be fresh. If using water held within an exposed reservoir, it may lack the dissolved air that enhances the flavour of your coffee. To create the ideal cup of coffee, utilise filtered water that has been freshly dispensed from your point of use machine.
Enhance your kitchen design
While we understand that functionality is the most important quality of any top water cooling system, adding a little bit of style and class into the workplace is an excellent bonus. We understand that everything in your office kitchen says a little bit about you and your company, and it is no different when it comes to your cooler. Our sleek and stylish coolers look incredible in all kinds of environments, and next to all kinds of coffee machines, and reflect well on your organisation.
Bring on the flavour
The provision of fresh, chilled water will allow your staff and visitors to cleanse their palates prior to consuming their coffee, allowing a more impactful and robust coffee flavour. What's even better than cleansing your palate with chilled water? Cleansing it with sparkling water!
By drinking sparkling water prior to drinking your cup of coffee, you will cleanse your palate before the first sip of coffee, so that you can fully appreciate the flavour, and filter out more intense flavours that may overpower the taste.
Due to the levels of acidity within coffee, drinking coffee can adversely affect your stomach lining and intestines. Sparkling water has been found to ease indigestion and irritation within the stomach. By drinking a cool glass of sparkling water, you provide your stomach with a layer of protection from the acidity of the coffee.
Our u1 water dispenser is a dramatic advance on your standard point of use water dispenser machine. We've designed the u1 to complement any office kitchen or coffee area, with a range of dispense options; including sparkling, chilled, and ambient. The u1 is designed with space efficiency in mind; powered by a discreet under-counter unit, allowing install in even the most compact of spaces, this allows the u1 to be the optimum machine for fitting on your office kitchen counter alongside your coffee machine.
If you'd like to discuss upgrading your coffee machine with our u1 water dispenser, contact us today.
You're reading an article from the Borg & Overström Academy programme.
Borg and Overström are a manufacturer, and trade-only supplier, of innovative, quality, water systems.
We take pride in working with our clients to help them to develop their businesses, providing tailored sales, marketing, and technical training and advice.