Top 5 Drinking Water Trends for 2023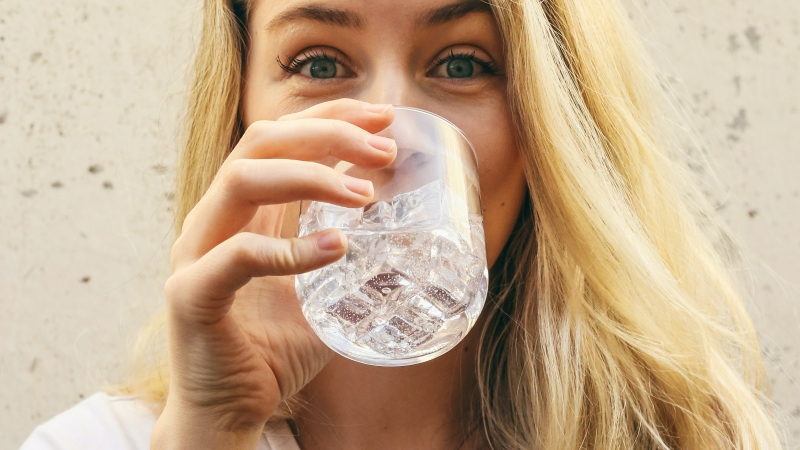 The world is constantly evolving in response to changing consumer behaviours and trends.
Gone are the days when one would see an extremely heavy and large plastic bottle placed on the top of a basic white water cooler. Today's consumers are much more discerning and the latest water dispensers are all about reducing single-use plastic, integrating new technology, and providing premium filtered water at the point-of-use.
With over 20 years of manufacturing experience in the world of water dispensing, we at Borg & Overström know the industry insights and trends, and are well placed to provide you with our calculated predictions.
Related: Good coffee, great water
Here are our top 5 trends for 2023:
1. Back to Basics for Health and Well-being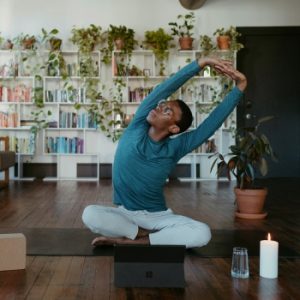 2023's evolution of well-being is putting trust back into the basic core principles of health: better nutrition, better fitness, better health, better sleep, and better mindfulness. All of these aspects can be greatly improved by better hydration.
While 2020 had us all navigate a global pandemic that emphasised the importance of protecting and improving personal health, we all had to return to simpler and more traditional measures of wellness. As such, consumer interest is moving away from highly manufactured nutrition shakes, towards more locally sourced water and plant based food. Continuing to take a step back from daily pressures and overcomplications, consumers are re-prioritising their health and wellness in a more natural light.
At the centre of well-being, whether it's physical, mental, emotional, spiritual, or social health, hydration will be a core focus of 2023. Moving away from the energy drinks of supermarkets and on-the-go coffee, the emerging post pandemic consumers have shifted their gaze from sugar-sweetened drinks to filtered clean water, staying hydrated naturally.
2. Bubbles, Only Better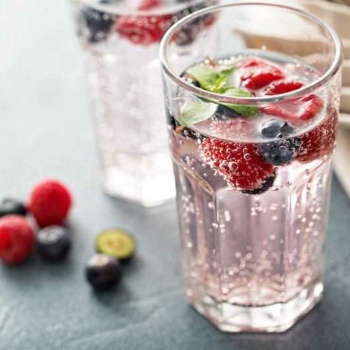 Move over sugar-sweetened beverages! Sparkling water is providing the healthy foundations for more experimental and sophisticated soft drinks.
Seeing a popularity increase of 60% in 2022, filtered sparkling water is harmonising the benefits of taste and health and is trending to be the consumer's choice of soft drink in 2023. Seeing a global shift in consumer priorities to the sensory experience of hydration, the sparkling water market is continuing to grow and is predicted to reach £67 billion by 2030.
While a back to basics lifestyle is forecast to be a focal point in the coming years, sparkling water will stand out as drinking water with a touch of pizazz. As champagne is to wine, a new refined hydrating experience is taking hold and sparkling water will be the bubbly, fizzy variation to filtered plain water. While this demand for sparkling water continues, so will the consumer's tastes. From filtered water to fruity canned sparkling water, the options of flavours are becoming increasingly diverse and premium as consumer pallets develop to be more sophisticated.
Cordial and other non-alcoholic spirits, mixed with sparkling water, are now moving into the spotlight in both domestic and workplace environments. By infusing the healthy benefits of filtered hydration with the bubbles and taste of sparkling water, consumers will look to enjoy the premium drinking water experience without the footprint.
3. Goodbye to Bottled Water! Water Coolers are Cool Again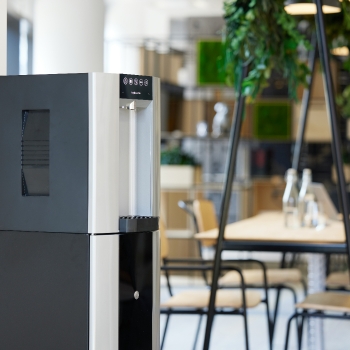 Now more than ever, consumers are becoming increasingly aware of their buying habits, looking to reduce their plastic consumption and purchase more sustainably.
This move away from single-use plastics and towards a sustainable and refillable culture, is reflected in two distinct trends: a 45% drop in bottled water sales since 2020, offset by the current CAGR (Compound Annual Growth rate) of 4.72% in the reusable water bottle market size which is expected to reach 13265.37 million by 2027.
The consumer of today is far more likely to carry a reusable water bottle that demonstrates an eco-friendly mindset than the bottled beverage fads of the past. No longer can market share be held with special edition named cola bottles, or fun wintery smoothies that featured a little bobble hat, when consumers are looking to reduce their plastic use.
Since 2020 businesses have begun to engage more actively with their customer's sustainability concerns. Coffee branches introduced a "we reward for reuse" campaign that turned into a 126% uplift in the use of reusable cups as educated and discerning consumers drove the use of keep cups and supported businesses who embraced the refillable attitudes of their consumers.
As this ongoing collective effort to reduce plastic waste progresses, awareness will continue to grow and refillable, sustainable solutions will become more accessible and synonymous with our day-to-day lives, with the next five years predicted to see an 87% increase in sustainability efforts by business experts in the fight against plastic pollution.
What does this mean for water dispensers? Companies and consumers alike are joining the refill movement, turning to point-of-use water coolers as the most sustainable solution. As the global water cooler market has seen an annual growth rate of 9.6%, 2023 will undoubtedly see a drive to eliminate single-use plastics and move towards a reusable and environmentally friendly future – putting a stop to the stocked drinks fridge, bottled table water in meeting rooms, and plastic bottle coolers.
In full circle fashion, it was the 1980s that made water coolers popular, as plastic bottles replaced glass as a more accessible and easily transported solution, and the following years saw a rise in sugary energy drinks, coffee consumption, and health kick smoothies. Now, the world is once again returning to the water cooler, but this time it's new and improved – offering a sustainable solution to plastic waste, filtered hydration, and better health.
4. Technology to Make Your Life Easier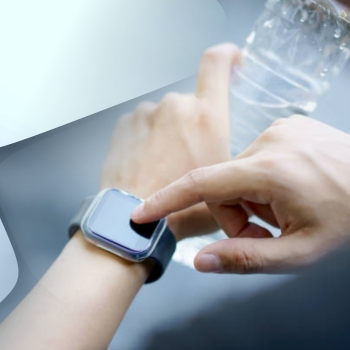 The advance of technology and its integration with consumer's day-to-day lives is rapidly increasing. From hydration and health benefits in the form of the latest watch that notifies you on best times to drink and exercise, to general business convenience, the evolving technology is becoming quicker to use, more personalised, and more convenient in all aspects of life.
2023 will see the integration of consumer ease features that augment the human experience. From washing machines that tell you when the cycle is done, to printers that re-order their own ink, industries around the world will have increasing opportunities to provide smart features that will save on energy, support safety elements, and improve a products quality by ensuring an improved versatility and robustness.
The water industry will see a vast increase of integrated designs that provide simpler solutions for users. Advances in smarter servicing, understanding user behaviour, consumer personalisation, and energy saving features, are just some of the ways 2023 will see technology provide a wealth of opportunities for the water industry.
5. Clear Water, Clear Conscience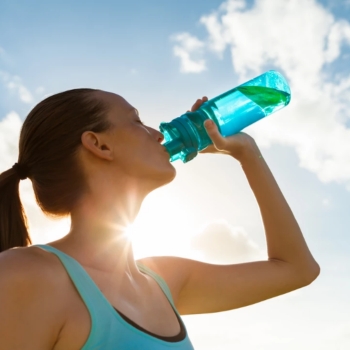 Younger generations are setting more than a trend, but an entirely new mind-set. 2023 will see the rise of the informed consumer who wants clarity and transparency when it comes to their drinking water.
Set in motion by a late study that discovered 93% of bottled water is contaminated by microplastic particles, water quality has become a huge point of contention with statistics demonstrating a huge number of domestic water systems assumed not to be safe by consumers. As consumer awareness continues to increase through widespread scientific information, filtration technology and UV (Ultra Violet) purification are beginning to increase in popularity, from taps and water dispensers, to water bottles themselves, integrated methods of quality control are likely to become ubiquitous following consumer behavioural trends.
Now, the informed consumer is concerned with more than just the product itself. Demanding a new level of customer experience, consumers will seek assurances about the traceability and purity of their water. An increased awareness about water quality and wider social-economic concerns have sowed the seeds of a consumer who needs a clear conscience when it comes to their choice of hydration.
Supply and demand through locally sourced water with a premium level of protection and filtration, will be invaluable as businesses and consumers alike will prioritise interacting with companies who demonstrate an ethical and traceable product supply chain. A clarity of assurance that will provide consumer confidence in the product's provenance and qualify if the company's ethical practices align with their own values and aspirations – on both a corporate and individual level.
2023 will ask for a new glass box approach that will help answer the consumer's call for clean, clear, drinking water that is as safe as it is refreshing.
---
We're here to help you. If you have any questions about the latest trends, or would like to know more about our water dispensers and filtered taps – contact us – our expert staff are ready and waiting to help you.
Fill out our form to stay up-to-date on the latest trends and all new innovations: