The street with no letter boxes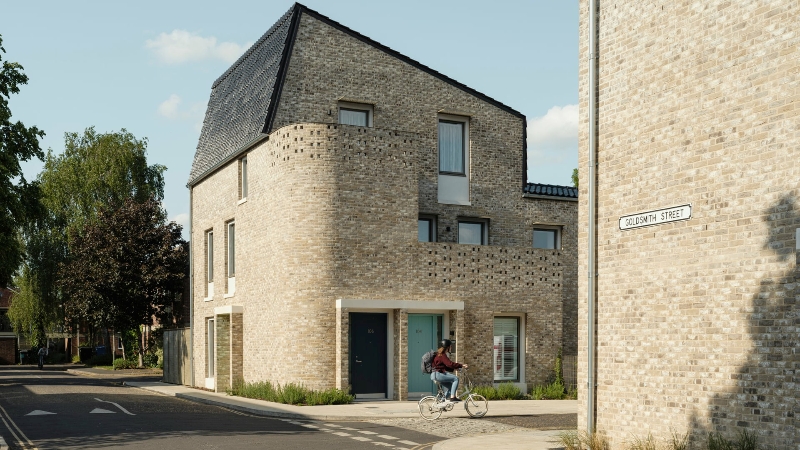 Norwich's Goldsmith Street is not a typical street in England. The buildings have asymmetric black pantile roofs, smaller than usual windows, perforated metal brise soleil (sun deflectors), and no letter boxes. That's because this RIBA award-winning social housing project is built to be super energy-efficient.
Norwich is around 100 miles Northeast of London and 10 miles south of Borg & Overström HQ. It's a city that's rich in history and famous for its narrow streets and intact medieval architecture. It was England's first UNESCO City of Literature, is one of the UK's most popular tourist destinations, and voted one of the "best places to live" in the UK by The Sunday Times (2018).
To add to the accolades, the Goldsmith Street housing development to the West of Norwich won the RIBA East Award 2019, RIBA East Client of the Year 2019 for Norwich City Council, and RIBA East Sustainability Award 2019.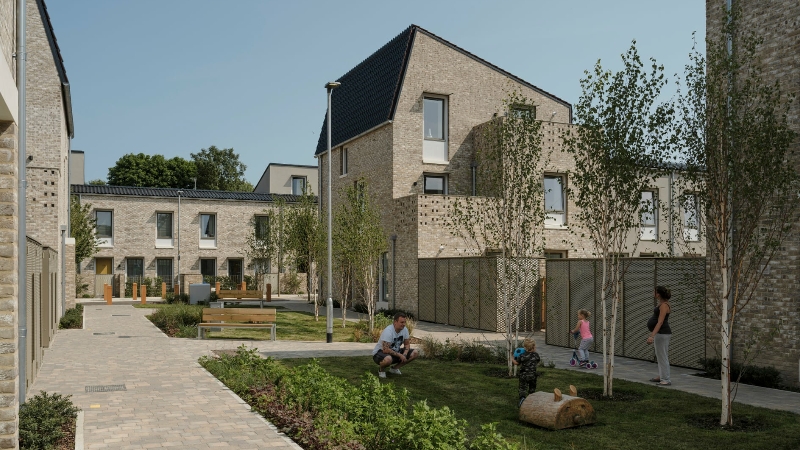 Modern, energy-efficient architecture meets Victorian terrace
Goldsmith Street is a new development of 105 homes built by Norwich City Council. London-based architects Mikhail Riches and Cathy Hawley may have been inspired by the City's Victorian terraces, but the project is "modern in its conception", said RIBA.
The new homes are built to Passivhaus standards, which means they are ultra-low energy. Passivhaus is a "fabric-first" approach to energy efficiency, meaning the building does the work rather than relying on bolt-on renewable energy devices, like solar panels and ground-source heat-pumps. Passive houses aim to keep as much heat inside the home as possible via super-high insulation, harvesting the sun's energy through south-facing windows, and creating an air-tight space.
Commenting on the project, RIBA said: "Bringing the reduced energy consumption associated with Passivhaus to mass housing is a great achievement, and one that has taken a large amount of effort and care by the architects."
The homes were also built with families in mind. "Provision for parking has been pushed to the perimeter, so the streets feel safe and 'owned' by pedestrians rather than cars. Bin stores have been thoughtfully used in the front gardens to create buffer zones between the public footpath and the front doors, giving a humane gradation of public to private territory."
The new development appears to have been well-received by the City and Goldsmith Street residents. Norwich city councillor Gail Harris, cabinet member with responsibility for social housing, said: "As one of very few local authorities building new council homes, this scheme demonstrates our ongoing commitment to providing high quality social housing with eco-credentials that benefit residents and the environment."
Read more about the Goldsmith Street development: