7 Reasons to Book Your Aquatech Amsterdam 2017 Tickets Today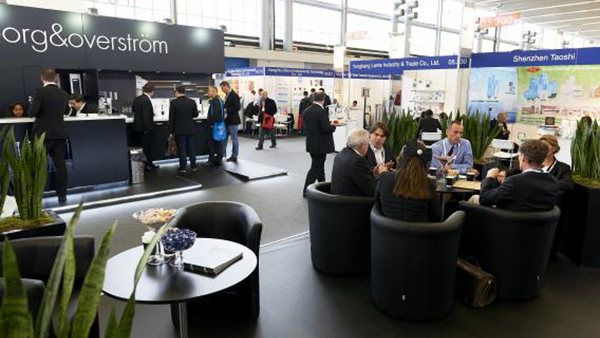 The bi-yearly exhibition, Aquatech Amsterdam 2017, is fast approaching, and we can't wait to share our latest product insights and news with you. This exciting event will be providing you with the latest solutions and innovations, allowing you to gain knowledge, make connections, and learn about the newest products and services before your competitors. Still not convinced? Today, we're going to be sharing our top seven reasons why you should book your tickets to this innovative exhibition today!
1. Stay ahead of the curve
We know that the water industry pulses and flows at breakneck speed, constantly updating with innovation and new technology. It can be difficult to find out and understand what's happening within it, and this is why attending Aquatech Amsterdam is so beneficial.
Anyone who's anyone within the water world will be in attendance, with a massive 850 exhibiting companies from water processing to drinking and waste water industries. Many organisations, such as Borg & Overstrom, will be revealing exciting plans, demonstrations, and products for the coming year.
2. Experience everything Amsterdam has to offer
Aquatech 2017 is taking place in the bustling capital city of The Netherlands, Amsterdam. Regularly voted as one of the most popular destination cities in the world, Amsterdam is brimming with culture, history, and activities. This so called 'urban village' is one of the world's smallest capital cities, meaning that visitors and tourists can access nearly all of it on a bike ride, walking tour, or via public transportation in just a few days – perfect to fit in your Aquatech schedule!
As well as hosting the largest historical inner city in Europe, Amsterdam features unique museums, such as Anne Frank's house, and the Rijksmuseum. The beauty of Amsterdam's floating city doesn't finish in the canals, it is truly a city for artists, with the Van Gogh Museum, Rembrandthuis, and Stedelijk Museum within the city.
3. Attend International Water Week
Aquatech Amsterdam takes place during the exciting, International Water Week. The Amsterdam International Water Week is a platform that gathers leading figures from government, the private sector, academics and society all over the world. Collectively, The Amsterdam International Water Week will explore sustainable development goals, resiliency, resource efficiency and the future of the economy within the water industry. During Amsterdam International Water Week, a variety of events and gatherings will take place; Aquatech Amsterdam, AIWW Conference, Floodex Europe, Sarphati Sanitation Awards, among others.
4. Make new connections
With 850 exhibitors, key figures from the industry will be exhibiting and visiting. Whether you're an industry pro, or have just set out on your water journey, Aquatech Amsterdam offers you the opportunity to connect and network with your peers and colleagues, swapping news, advice, contact details and opportunities.
There will be a specified matchmaking session on the 2nd of November to enable ease of networking and communication, as well as a social event in which colleagues, customers, and business friends can enjoy a boat tour through Amsterdam's famous canals.
5. Accessible and exciting venue
This year's event will be taking place at the RAI Amsterdam; this is a complex of conference and exhibition halls nestled in the heart of the bustling city of Amsterdam, just a stone's throw from Amsterdam's RAI Railway Station. The RAI welcomes around 2 million visitors per year to it's 22 conference rooms and eleven halls. This capacity enables it to host 50 international conferences and 70 trade shows annually. Not content with merely hosting conversation and networking, the complex is also home to a musical and concert theatre and underground parking space for over 3,000 cars.
6. Extensive programme
Any experience which allows us the opportunity to learn and grow as individuals and professionals is truly worthy, and Aquatech Amsterdam is no exception. Aquatech Amsterdam will host specialised pavilions, with focused content and material on specific sectors including; industrial user experience, desalination, smart water networks, pipefitting, pumps and processing, and country specific content receptions and presentations.
As well as available content, Aquatech will be hosting seminars, in which industry experts will be sharing their knowledge on innovation, the economy, climate change, cities, water scarcity, and many more topics.
7. It's free!
Borg & Overstrom are proud to offer free entry tickets for Aquatech Amstedam for all of our current partners and distributors, as well as any new industry colleagues interested in finding out more about Borg & Overström's products and services.
For further details and complimentary visitor passes, please either email [email protected] or call +44 (0)1362 695 006. One of the team will be pleased to help.