Find out which water dispenser is best for your workplace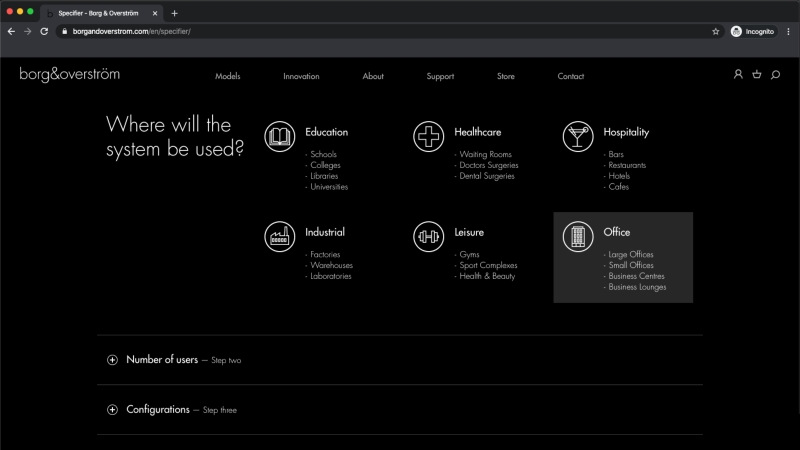 Identify the best model of Borg & Overström water dispenser to enhance your workplace or facility with our online specification tool.
When choosing a water dispenser for your office, gym, school, or restaurant there are a number of factors to consider. The Model Specifier tool guides you through a series of questions to ensure that the recommended model meets the desired aesthetics and performance.
Step 1: Where will the system be used?
We've identified the most suitable water dispensers for common settings including education, healthcare, hospitality, industrial, leisure, and office use.
Step 2: How many people will be using the system?
How well your water dispenser performs in these locations depends on how many people will be using the system and how frequently. For example, high footfall areas such as canteens require dispensers with high-capacity chillers that can serve many people.
Step 3: What is your preferred configuration?
Borg & Overström water systems come in three configurations: undercounter, countertop, and floorstanding.
Step 4: Dispense options
Design the best system for your workplace or facility by combining hot, chilled, ambient, or sparkling water options.
Step 5: Summary
Based on the answers given in the previous steps, the specifier will provide a number of suitable recommendations. These options are linked through to full model descriptions, accessories, guides, and other useful resources.
Launch Model Specifier and find the right water dispenser for the right environment.