Back from the BWCA Annual Conference & Trade Show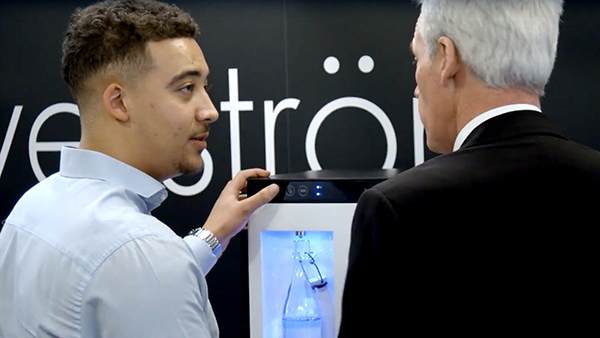 We enjoyed a productive day at the BWCA (British Watercooler Association) event at the Belfry in Nottingham on 8th March. It is our industry's largest annual water cooler conference and trade show, and Borg & Overström were there in force. Ours was the only stand with models plumbed in for visitors to sample the benefits of Direct Chill coolers, including sparkling water. In prime position in the lobby area, our display provoked no little 'stand envy'!
As well as the chance to reconnect with many customers, the event also provided our first opportunity in the UK to show off our new B3 and B4 appliances, which will be available to order from 1st May. There was a lot of interest shown – some visitors even saying their main goal in attending the event was to have their first sight of them. Feedback was very positive, with the white B4 especially admired. We're anticipating strong demand.
Couldn't get to the BWCA event?
Pre-register your interest in the new B3 and B4 here.

The BWCA had organised an excellent line-up of speakers included Brendan Hanlon from the Just A Drop charity – which is sponsored by the BWCA – describing some great work helping two villages in Zambia to create safe and reliable sources of fresh water. Top of the bill was keynote speaker, Debra Searle, who has single-handedly rowed the Atlantic. Her talk explained how the mental strategies she devised to help her on her epic solo voyage have since helped her achieve success in business and in day-to-day life – it was inspirational stuff.
With all the great and the good of the UK water cooler industry in attendance, we took the opportunity to record several video interviews with key figures – look out for them in future posts.