What is NBS and how can it benefit Borg & Overström distributors?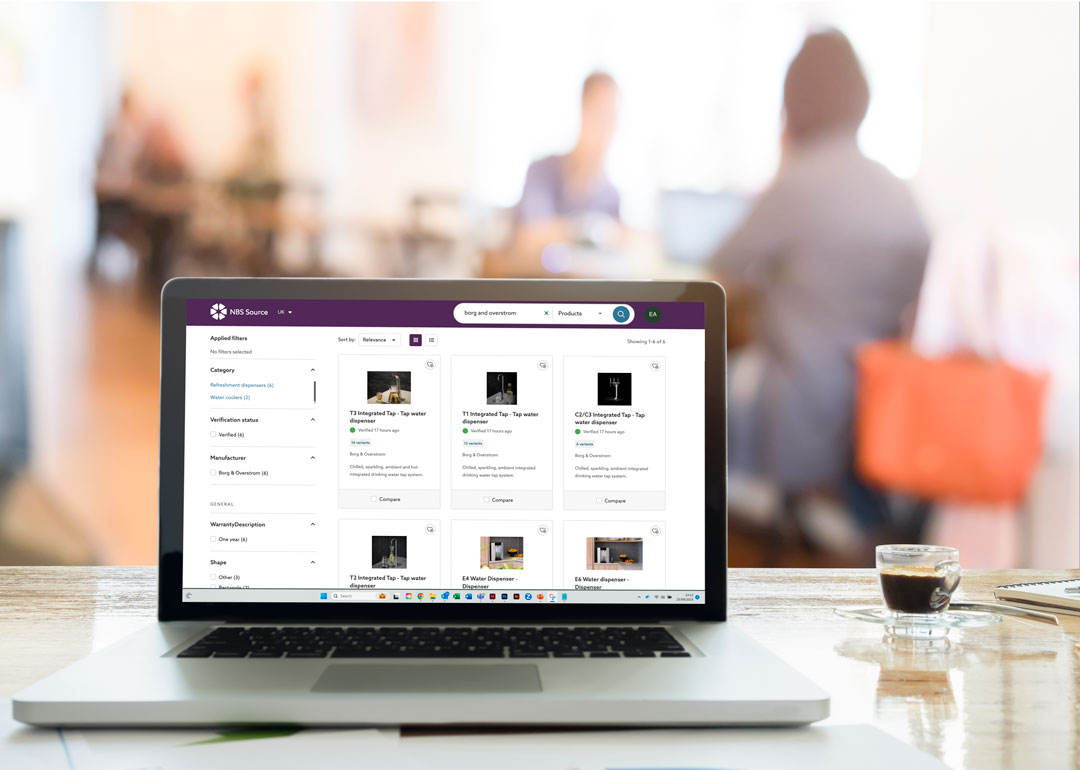 NBS stands for National Building Specification. It's an integrated global platform for everyone involved in design, supply and construction of the built environment.
At Borg & Overström, we have joined as an NBS partner and included our entire product range onto the NBS platform. This is a great way for your customers to specify our integrated drinking water dispensers and taps into tender projects or for generating new potential customers who we can pair with our distribution partners. Many of your customers, from office fit-out companies to public sector developments, will be using this platform already and now they can search for Borg & Overström products to specify directly into their projects.
Over 73% of UK architects use NBS to write their specifications. Together, they make over 13.6m decisions per month within the NBS platform, illustrating that there are many benefits and opportunities within NBS for Borg & Overstrom partners. Here we will go through a few of those benefits.
Compete directly with competitors
With a number of competitors utilising the NBS system, Borg & Overström's presence on the platform places our dispensers in direct competition with rival products on the market every time someone searches for a drinking water dispenser. You have to be seen to be specified, and with Borg & Overström products showcased within the system, every specification search within the NBS platform becomes and opportunity.
Access to new customers and new markets
With over 13.6m decisions made on the NBS platform per month, Borg & Overström's presence on the platform opens the doors to a plethora of prospective clients. From architects and specifiers to fit out companies, every NBS user has the potential to discover the Borg & Overström product range by exploring the NBS website and conducting searches for water dispensing solutions and taps for upcoming tenders or projects. This has the potential to introduce Borg & Overström and our distributors to a growing pool of clients.
All product information on tap
Subscribers to the NBS platform benefit from quick and straight forward access to all the information they will need to specify Borg & Overström drinking water units. There's no waiting for requested information, it can all be found on the NBS website. From a simple search, a customer will be able to review installation manuals, access BIM files and browse images and case studies, making it as easy as possible for your existing customers or potential new customers to specify drinking water units into their design project or tender.
Quality assurance and efficient specification
The items available on the NBS platform have undergone rigorous assessments and adhere to established standards, ensuring their superior quality. This not only conserves valuable time for your customers but also grants them confidence when considering the inclusion of Borg & Overström integrated drinking water dispensers or taps in their project.
Inform your customers and get orders specified
Take the opportunity to inform your customer base that they now have the convenient option to include Borg & Overström products in their tenders and projects. Once the products are specified, they can then proceed to place their order through you.
Click here to view our full range on the NBS platform