Why bottled water is costly for your business and the environment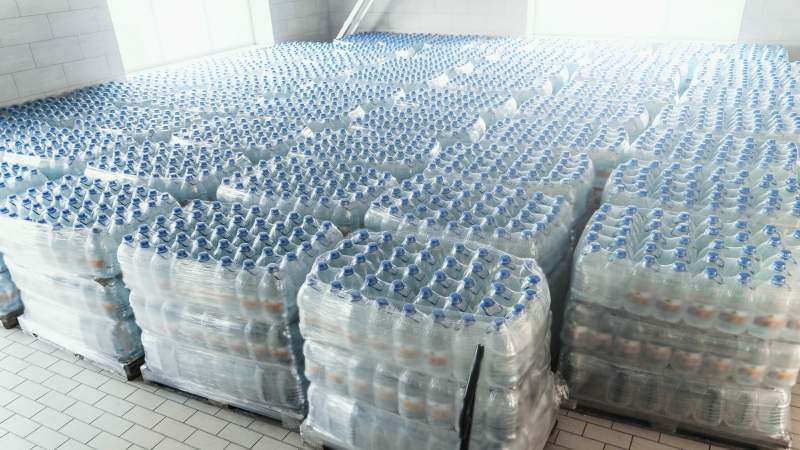 If your organisation still relies on prefilled plastic water bottles, it's time to rethink your hydration solution. Switching to Borg & Overström point-of-use (POU) water dispensers brings both monetary and environmental savings.
Bottled water is sold by the unit, and water dispensers by the appliance
Why should this matter? Bottled water is sold by the unit (and therefore litre), meaning that the more water you consume per year, the more you pay. A POU water dispenser connects to the mains providing an unlimited supply of fresh filtered water for a regular monthly rental fee.
This illustration demonstrates how much you could save by switching from bottles to POU.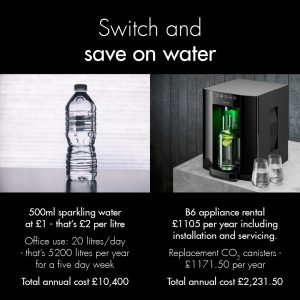 Considering switching from bottle-fed watercoolers to POU? Try our calculator to find out how much you could save.
Bottled water is convenient but wasteful
Bottled water production is inefficient and wasteful, resulting in a product designed to be used once and then thrown away. Refilling a single-use plastic bottle can in fact be a health hazard since plastic breaks down over time, and cracks can harbour bacteria.
Plastic bottles may be convenient, but the complexities of collection and processing mean that only a small number are recycled (less than 30 percent in the US). A well-placed water dispenser can encourage employees and customers to refill rather than rebuy.
A water dispenser near a fridge or in a canteen can help reduce the number of water and soda bottles used in your workplace. Making reusable branded vessels available, such as personal drinking bottles, glasses, and jugs, also facilitate refilling.
Plastic is becoming socially unacceptable
If your organisation has a sustainability policy, yet you're still using plastic bottles, it's likely sending mixed messages to employees and customers. This could impact your ability to hire and retain staff.
More people seek employment with organisations that share their beliefs and demonstrate commitment to environmental and social causes. Furthermore, marketing by companies such as Chilly's reusable bottles and TV programmes like the BBC's Blue Planet are gradually making plastic bottles socially unacceptable.
Over the past two years, 44% of millennials and 49% of Gen Zs said they have made choices over the type of work they are prepared to do and the organizations for which they are willing to work based on their personal ethics.*
Bottled water isn't hassle-free
There is also a time and space cost to your business if you rely on bottled water. A water dispenser has a constant supply of quality drinking water, so there's no need to order water or store it, eliminating transportation logistics and freeing up space.
Borg & Overström water dispensers are also very low maintenance, so you won't just replace one headache with another. Once installed, your distributor will manage your service and maintenance schedule. Routine appliance cleaning can be added to your staff's usual regime.
Why Borg & Overström water dispensers are a more sustainable solution
Due to their build quality, appliances stand up to the daily rigours of large and small workplaces and commercial premises. It's not unusual for a correctly maintained Borg & Overström water dispenser to still be in the field after ten years.
Furthermore, our engineers continually advance dispensing, balancing dispensing power with energy consumption. Efficient, energy-saving innovations include Dry Chill®, Viovandt® LED-UV water purification and eco-mode.
We're proud of our ever-improving sustainability credentials, which include:
Silver EcoVadis sustainability rating
Certified ISO 14001 for Environment Management Systems
Manufactured in the UK using sub-assemblies from nearshore suppliers
Production plant powered by renewable energy sources
HQ is 100 percent landfill-free
Products shipped in sustainably sourced, recyclable packaging
Our water dispensers have tall dispensing areas and large capacities to accommodate the refilling of personal drinking bottles and other vessels. Ease of use, combined with premium aesthetics, cost savings, and reduced environmental impact, makes switching from bottles to Borg & Overström POU the logical choice.
Discover the full range of water dispensers and tap systems, or contact our customer service team to discuss switching your services.
*2021 Deloitte Global Millennial Survey Report