Discover the future of work in the World's Best Workplaces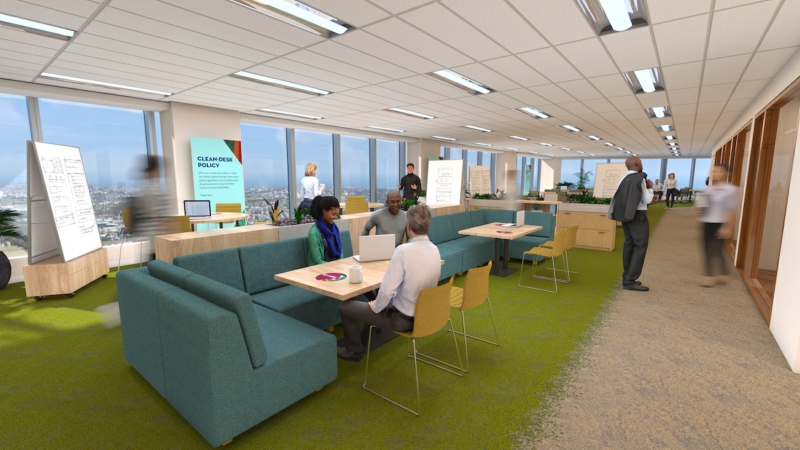 [Image credit: Salesforce | Rendering of their redesigned workspace]
Behind closed doors around the world there's a debate taking place. What does the future of work look like and how does it affect 'our' workplace strategy?
Commercial real estate advisor, Avison Young believes organisations are moving towards the "multiverse" of work. In this future, employers support a variety of on-site and remote working that facilitates the performance of people.
In this post we look at the multiverse of three companies listed in the World's Best Workplaces 2020™.
Intuit Inc
Intuit is the global technology company behind Quickbooks. Before the pandemic, 88% of its workforce worked mostly or full-time from Intuit sites.
Writing on their blog they said: "Instead of returning to the way things were pre-pandemic, we are determined to embrace this period of change as an opportunity to reimagine our workforce and workplace strategy and to build something better for our 11,000+ employees."
An Intuit employee survey revealed that 80% of their employees would prefer a hybrid-workplace model. Just 14% said they'd prefer a full-time remote work model.
In addition, 79% of employees said that feeling isolated from colleagues and community was the biggest drawback of working from home. 56% said they missed the ability to have informal "hallway" conversations and interactions with their colleagues.
Intuit's future of work strategy has three key pillars, or "broad strokes".
Establishing a hybrid working model that brings together the best of virtual work and in-person connections and collaboration.
Reimagining our workplaces by evolving our offices to be dynamic spaces for co-creating, making social connections and innovating.
"Widening our net" to attract talent by expanding our presence in new geographies to access more top talent and build an increasingly diverse workforce.
While Intuit has set a clear vision for their future workplace, they acknowledge that it will likely evolve and there's still a lot to learn.
"While some companies have taken a directive approach which may provide more initial clarity, we felt a learning approach was the best path forward for our Intuit culture. That path will support the outcomes we strive to deliver, reinforce our unique culture, and support the well-being of our employees."
Salesforce
Salesforce say that "the majority" of employees will go back to the office at least some of the time. They also report that 80% of their employees are "still hungry for the connection, camaraderie and innovation that comes from gathering in- person".
In addition to giving employees flexibility in how, when and where they work, Salesforce is reimagining its workspaces.
"To start, we'll be redesigning our workspaces over time as community hubs to accommodate a more hybrid workstyle. Gone are the days of a sea of desks — we'll create more collaboration and breakout spaces to foster the human connection that can't be replicated remotely."
Technology of course plays a role in this and they're using data from their own suite of products to inform decision-making. This includes working out where teams will work in the office and how to utilise space effectively.
DHL Express
DHL Express has a unique insight into the challenges of virtual working. Managing remote employees is essential when you have a geographically diverse work force. DHL employees operate out of offices, transportation hubs, warehouses, whilst on the road, and now also working from home.
Its hybrid remote work model is designed to provide virtual options as well as preserve direct engagement. This is facilitated through specific activities like in-person meetings, team building and employee recognition events.
Here are some of their latest ideas for connecting teams.
A programme of living room conversations with company leaders.
A virtual employee appreciation week, which included a virtual dance party.
Festiv-All combined virtual and live activities like cooking and social responsibility efforts.
Mike Parra, CEO, DHL Express Americas, said: "Remote work programs don't diminish the need for workplace structures and programs; they simply change the formulation."
Experimentation in the multiverse of work
Hybrid working to a greater or lesser extent appears to be the direction of travel for many organisations. But delivering a hybrid model is going to be a huge challenge, say Avison Young. "We expect the next few years to be a time of experimentation across companies competing for the best talent to move their respective industries forward."
For many employers, the more immediate challenge is how to encourage and manage employees returning to the physical office. To do this, Avison Lee say employers need to focus on the quality of the workplace and create an environment that employees are comfortable with.