Distinctly Borg & Overström hot tap now available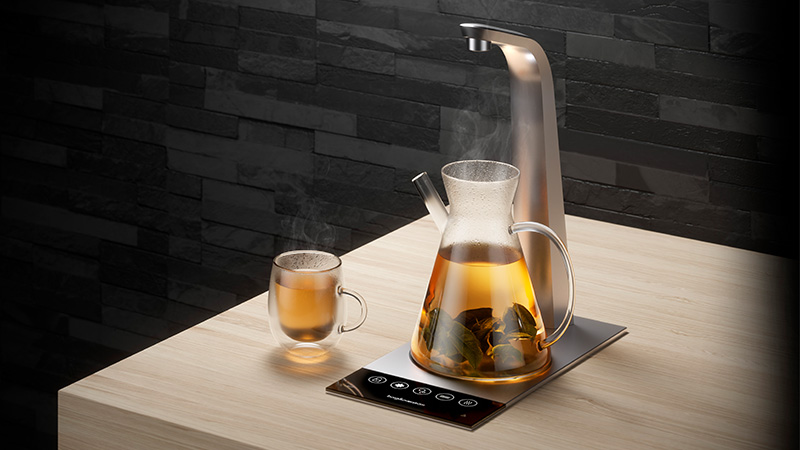 The wait is over! T3 is our first-ever integrated tap system with a hot water option, and it's clearly a Borg & Overström innovation.
T3 has all the features and benefits of our chilled and sparkling tap systems, with the addition of a hot water option. The uncompromising original design, combined with our most advanced dispensing innovations, makes T3 an appealing addition to our product suite.
This is a hot tap for all seasons. Our engineers have once again pushed the boundaries of design to build a four-way tap system that in no way sacrifices water quality, performance, energy efficiency, or aesthetics.
T3 stands apart with its typically Borg & Overström contemporary integrated tap and drip tray. Due to clever engineering and its origins in cold water dispensing, this tap overcomes some of the more challenging aspects of hot water dispensing.
T3 dispenses hot water at 92 degrees and chilled water from the same faucet without compromising the temperature of either. The faucet also remains cool to the touch during hot water dispensing.
Beneath the counter is a single, convenient ProCore™ unit containing hot, cold, and sparkling components. The cabinet has a slightly deeper footprint than T2 but fits onto the same cutouts, allowing for easy transition from T2 to T3, if required, with minimal adaptation.
T3 ProCore™ comes with all the same performance, and hygiene innovations customers expect from a Borg & Overström system, including Dry Chill®, Viovandt™ LED-UV and Totality®.
T3 bears the iconic hallmark of all next-generation Borg & Overström dispensers – Maktens Borg and follows hot on the heels of T1, T2, and B6. At the core of all of these appliances is a commitment to further improving maintenance, customer service, future-proofing digital connectivity, and reducing our environmental impact.
By re-imagining our appliances, we've achieved our vision of nearshoring our supply chain. T3 is built in the UK using proprietary sub-assemblies from nearshore suppliers, reducing the supply-chain carbon footprint. Recyclable components combined with solar-powered manufacturing processes make T3 a highly sustainable choice.
Furthermore, T3 has industry-leading modularity, which is truly revolutionary for our distributors and their customers.
In practice, this means frequently replaced parts such as the HMI, PCB, and solenoids found in T3 are the same as those found in T1, T2, and even B6. Modularity vastly increases distributors' maintenance efficiency and demonstrates our commitment to reliability and excellent service for all users.
It may have been a long wait for a Borg & Overström hot tap, but it's been worth it. For a complete list of features and benefits, visit T3 product page.