Introducing… MyColour!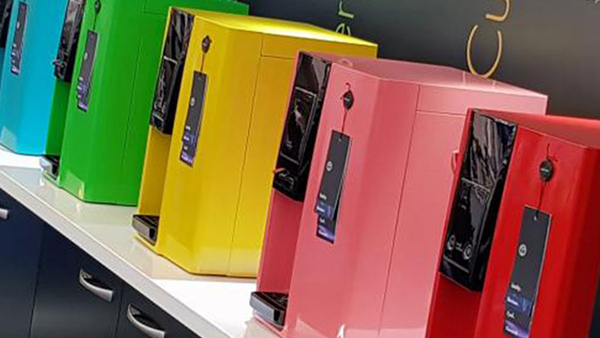 There was a star of the show at Aquatech Amsterdam. It was the talk of Amsterdam, and Twitter was abuzz. Our new machines, MyColour, were bold, eyecatching, and unique, bringing in visitors from across the centre to enjoy the colourful fusion of hydration and design. Our MyColour machines are available in a range of bright colours, which our in house design team have selected to tie in with interior design colour trends;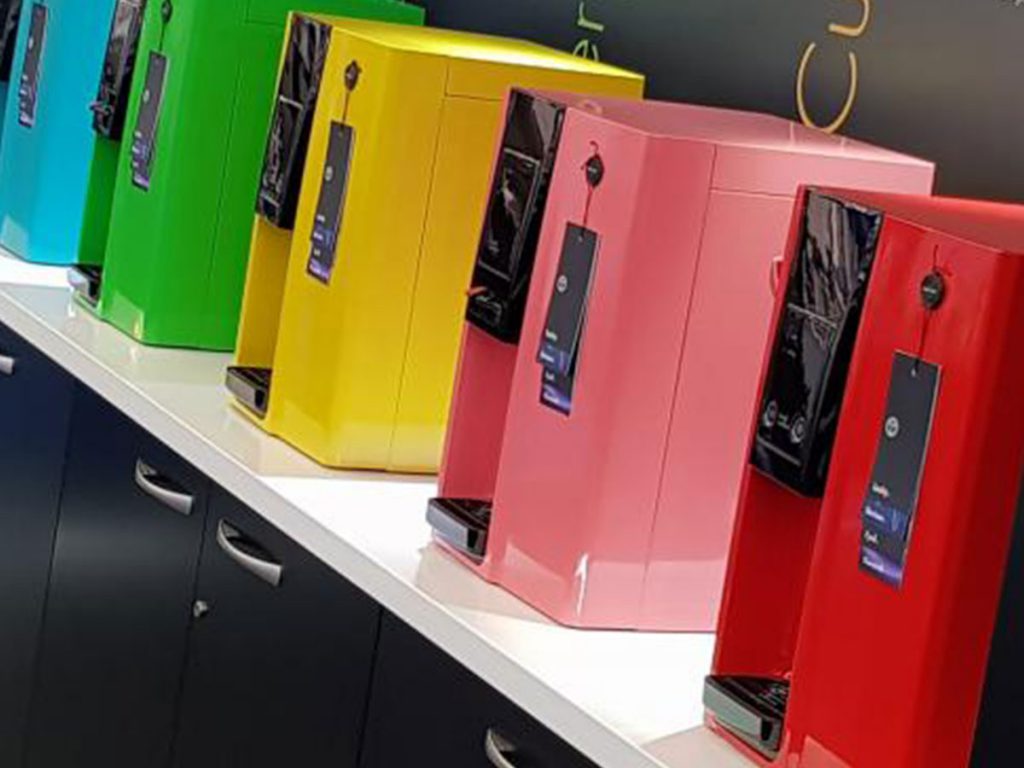 Marrs Green
A rich teal, voted the 'World's Favourite Colour' in a global survey in 2017, having been submitted by Annie Marrs of Dundee who was "inspired by the landscape that surrounds me at home".
Greenery
Pantone's 'Colour of the Year' for 2017. They describe it as "a fresh and zesty yellow-green shade that evokes the first days of spring when nature's greens revive, restore and renew".
Lemon Curry
An "exotic and spicy" hue, identified as "one of the Top 10 colour trends" from London Fashion Week for autumn 2017, and sure to add warmth to any environment.
Ash Rose
Also from London Fashion Week, predicted to be trending in Spring 2018, "Sophisticated yet earthy Ash Rose introduces a new dimension, transforming this muted pink shade into a more grounded hue".
Flame Scarlet
Impossible to miss, according to the Pantone Colour Institute this "vivid, powerful red leads the way for Autumn 2018 in London"
We knew that our friends and colleagues would leap at the opportunity to own a MyColour water dispenser for their workplaces and offices, and hosted an Aquatech exclusive competition, giving away one machine in each colour! We received lots of feedback on the design of our new products, such as;
+ "I've been trying to up my water intake, and having something as bold and impressive around would help!"
+ "WOW! These are beautiful water coolers! This would definitely brighten up our office"
+ "Looking forward to offering such a colourful range to our customers"
+ "Love the sleek design, and high gloss finish. Beautiful!"
+ "This would bring such a vibrancy to our kitchen"
If you would like to enquire about our limited edition MyColour water dispensers, contact our sales team today.