KoffiePartners MD lives his dream to sail the Atlantic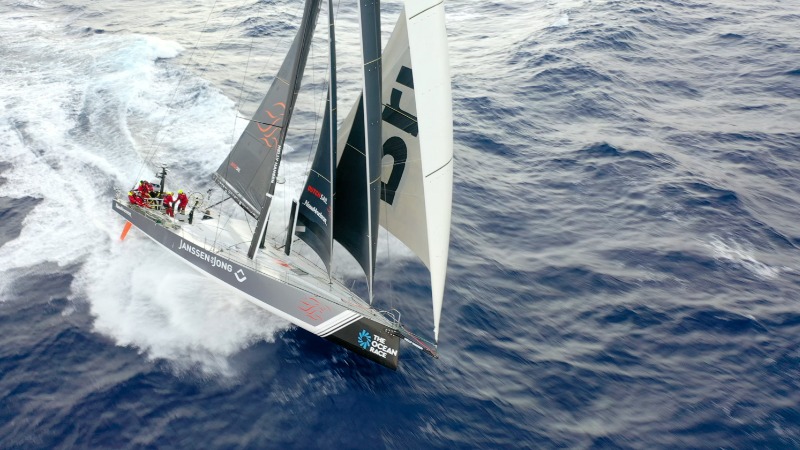 Crossing the Atlantic in a sailboat was a once in a lifetime adventure, says Bart Brouwer, KoffiePartners Managing Director. In this post, Bart shares some of his experiences and reflections while onboard the 65-foot Janssen de Jong V065.
Almost 13 days' battling high waves & strong winds
Bart faced all weather conditions as he crossed the Atlantic with the Janseen de Jong crew consisting of professional sailors and experienced friends. For 12.5 days, the team battled high waves, strong winds, thunder, lightning, and rain.
Bart describes sailing for two nights through heavy thunderstorms: "I did wonder: 'Is this going to be okay?' Because, as the only boat, with a mast of 33 meters high, then it would be very exciting whether lightning would hit us, especially when you consider that there is no one around to help you if things go wrong."
At speeds of 36 to 54km per hour (20-30 knots), the boat bounces off the waves. Bart recalls: "In those moments, with all the salty water gushing all around you and over the boat, the adrenaline rushes through your body."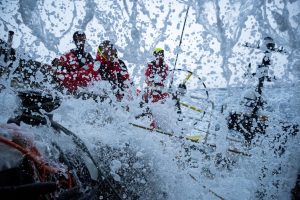 Moments to reflect on the fragility of Earth
The crew enjoyed watching the marine life during calmer moments, including dolphins and whales. These times provided moments of reflection when Bart could contemplate the vastness of the ocean and the fragility of the planet.
"On the water you experience the enormous impact of wind and weather, clouds, the sun, moonlight and the vastness of the ocean. A tiny and impressive feeling, which makes you think enormously about the way we live. It got me thinking about how we as humans treat the earth. The planet and its countries are so over-crowded, people are driving each other crazy on what we should do / what is expected of us."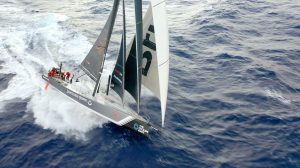 Although Bart enjoyed his adventure, he missed his family and basic facilities such as a shower, dry clothes, and "normal food". He admits that living on astronaut food for almost two weeks became monotonous and left him craving an apple or a banana.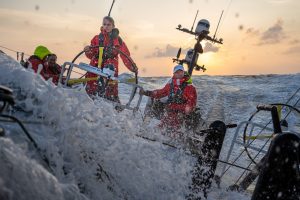 A renewed commitment to sustainability
Bart completed his journey with a renewed commitment to how he runs KoffiePartners back home in the Netherlands. The adventure reinforced his belief that they are doing the right things by working in a solar-powered building and ensuring the business offers sustainable, circular, and Fairtrade products.
The adventure also provided new insights into "the strength of a good team, and a positive spirit". Bart remains dedicated to shaping a fun and happy work environment with nice clients, suppliers, and a positive team.
"When you cross the ocean after full throttle, beautiful sunsets and beautiful conversations with this team, you finally reach the other side after thousands of nautical miles, you experience an emotional moment," says Bart. "It is special to be able to do this together with this group of professional sailors, business relations and friends. We have become a close-knit group. I am very grateful to Ivo van der Mark and Janssen de Jong for this unique opportunity."
Bart concludes: "Life is too short to complain about negatives, you better energize yourself with positive people," he adds. "Relax, step back, and think about what you're doing. We are ruining our planet. We should spend much more time on a healthy life with a positive mindset, a clean ocean, sports, fresh water and much more plant-based food."
If you're based in the Netherlands, KoffiePartners is a recommended partner and stockist of Borg & Overström products.