Elevate your hydration with the luxurious E7 water dispenser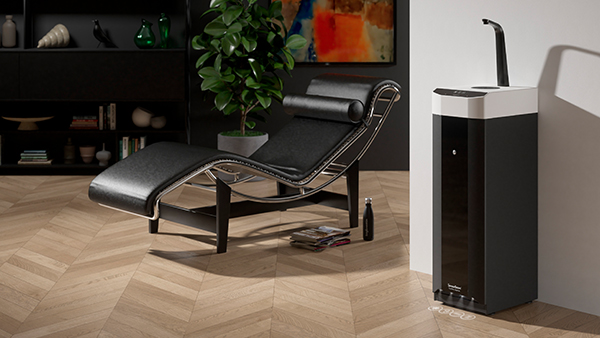 Introducing the latest evolution in luxurious, sustainable water dispensing technology – the E7.
At Borg & Overström, we have been pioneers in innovative, design-oriented water dispensing for over two decades. As we embark on a new era of development, we are delighted to introduce our premier model.
A refined tap system poised upon a luxurious Corian® top, the E7 features illuminated touchless projection mapping technology for effortlessly elegant hydration.
Elevate your hydration with a refined drinking water experience.
In this article, we'll explore all the new features that the E7 has to offer.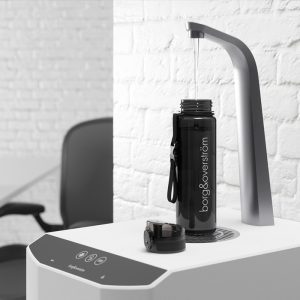 Sophisticated, elegant design and craftsmanship
Custom built to order by hand, the E7 offers a refined tap-style dispense system, poised elegantly above a unique Corian® top with integrated drip tray and antimicrobial touch panel. The E7 is a quietly understated and effortlessly luxurious free-standing water dispenser for discerning environments.
Energy-saving Eco-mode for reduced energy costs.
The E7 stands out for its sustainability and unwavering energy efficiency, incorporating our cutting-edge EcoMode technology as a default feature.
By utilising smart sensors, EcoMode activates standby mode for your E7 during extended periods of darkness or inactivity, preventing any unnecessary cooling of water overnight or when there are no users present to enjoy it.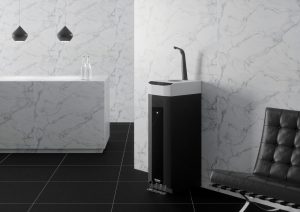 Efficient ProCore® technology for powerful performance
Powered by our exclusive modular ProCore® system, the E7 harmonises powerful performance with energy-efficiency, and has been built with a sustainability-focused design for an overall low carbon footprint.
Combining style, convenience and sustainability, the ProCore® is the engine for the next era of evolved and sustainable water dispensers and tap systems, utilising the most advanced innovations in intelligent design.
Built for powerful performance, environmental sustainability and long-lasting durability, the ProCore® boasts industry-leading digital connectivity and eco-friendly credentials. The modular design of our unique ProCore® makes maintenance and servicing easy and convenient, allowing for a versatile and hassle-free experience.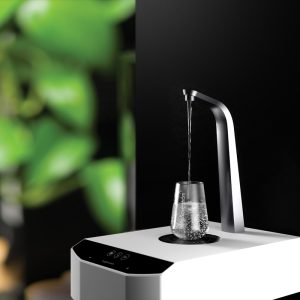 Innovative touch-free dispensing
Employing the latest in intelligent design, the E7 offers complete convenience. Illuminated SensorBeam® projection control provides a futuristic and hygienic touchless dispense experience.
The pioneering SensorBeam® technology utilises projection mapping to allow users to pour a glass of water, simply by using their foot. No pedals, no buttons, just the beautiful simplicity of illuminated controls projected onto the floor, providing complete assurance in hygiene protection.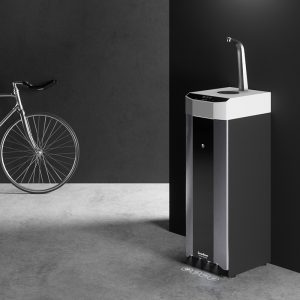 Sustainably superior for a lower carbon footprint
The E7 represents a new era of eco-conscious design, delivering impressive and environmentally friendly performance through energy-efficient technology, thereby reducing the reliance on disposable plastic bottles.
Crafted and assembled in the United Kingdom at our zero-waste facility, the E7 enjoys the benefits of a smaller carbon footprint and a nearby supply chain.
From the energy-conserving EcoMode function to the use of eco-friendly refrigerant cooling and recyclable packaging, the E7 presents a comprehensive and eco-friendly approach to filtered drinking water, with a smaller environmental footprint compared to conventional dispensers. As part of our unwavering commitment to sustainability, we have closely collaborated with our suppliers to secure materials and components with minimal ecological impact.
Make a statement with high end hydration, ideal for luxury retail environments or boardrooms and venues where impression is everything.