How we reinvented production for a new generation of water dispensers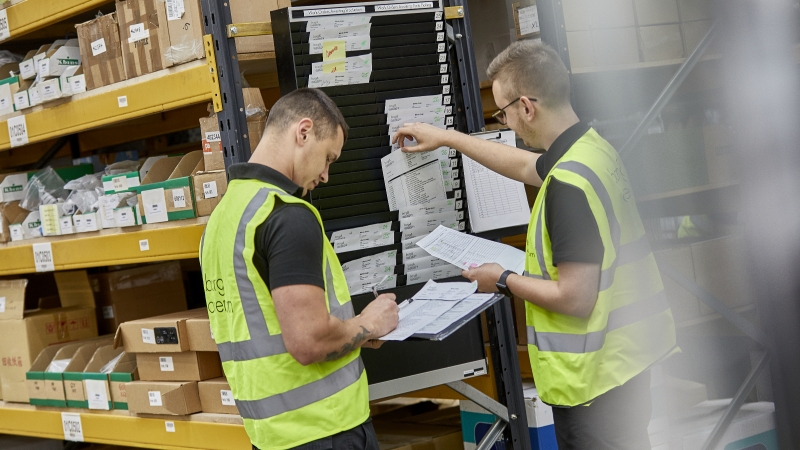 There's something very exciting about the new products we're launching this year. They're the first of a new generation of water dispensers built by us from the ground up using proprietary components from near-shore suppliers.
Own-design components bring many benefits, including even higher quality, a lower carbon footprint, a more secure supply chain, and future-proofed digital connectivity. To build these products with the same high levels of efficiency and quality, we needed to reinvent the production line.
Pre-assembly lines added
"Essentially, what we had on production until the launch of our new products were a number of assembly and testing stations," explains Neil Fulcher, Head of Production. "While previous models were bought in partly assembled, all new generation models are built in-house, so we needed to add pre-assembly stations for the new products."
Neil led the changes to production in 2019 when we used lean thinking to increase efficiency and accommodate future growth. He's applying his many years' experience in lean manufacturing to ensure efficiency and accuracy in the new production lines.
"First, we carried out a detailed analysis of every single manufacturing step," says Neil. "I worked with David Hyland in Research and Development to document and time the processes needed to build one unit. The challenge was then to divide the tasks into workstations."
There are currently three workstations building ProCore® units, in addition to a new tap assembly line. We expect to scale the team and production in the coming months to meet projected sales targets.
99.6 per cent out-of-the-box rate maintained
Efficiency and quality are the bedrock of production at Borg & Overström, and we're all extremely proud of our 99.6 per cent out-of-the-box success rate. The key to success are our lean manufacturing processes and stringent quality control measures.
All production lines use Kanban for parts picking, a popular Lean logistics method used by the likes of Porsche and Toyota. All commonly used parts are contained in bins that are regularly topped up.
We also employ a technique called Poka Yoke, or fail-safes that help prevent human error. Specific parts are 'picked-to-order' and placed on a trolley and sent to the production line as a 'kit of parts'.
Any parts that remain on the trolley after the build alert the team to a potential quality concern. Quality assurance is essential for the new lines, as appliances are produced with increasing levels of product customisation.
This is an exciting new era for Borg & Overström and our partners. As the new products roll off the production line, the team is already thinking about the opportunities for automation in the quality control process. Something that wouldn't have been achievable without proprietary components and digital connectivity capabilities.
All new generation water dispensers carry the Maktens Borg castle icon as a marque of authenticity. Discover our ranges:
T1
T2
C2 & C3
B6