UK drinking water market surges post-2021
New report reveals that the market is bouncing back
It's good news for the UK drinking water industry, which appears to be growing past a 2021 slump. Food and drink consultancy and intelligence aggregator Zenith Global has completed its latest market report and found the industry managed to grow through a tumultuous year.
According to the company's own press release, "The UK plain water market grew by 9.1% in 2021 to 3,480 million litres as the market began to recover from the worst of the Covid-19 pandemic."
See the chart below for an illustration of this encouraging recovery.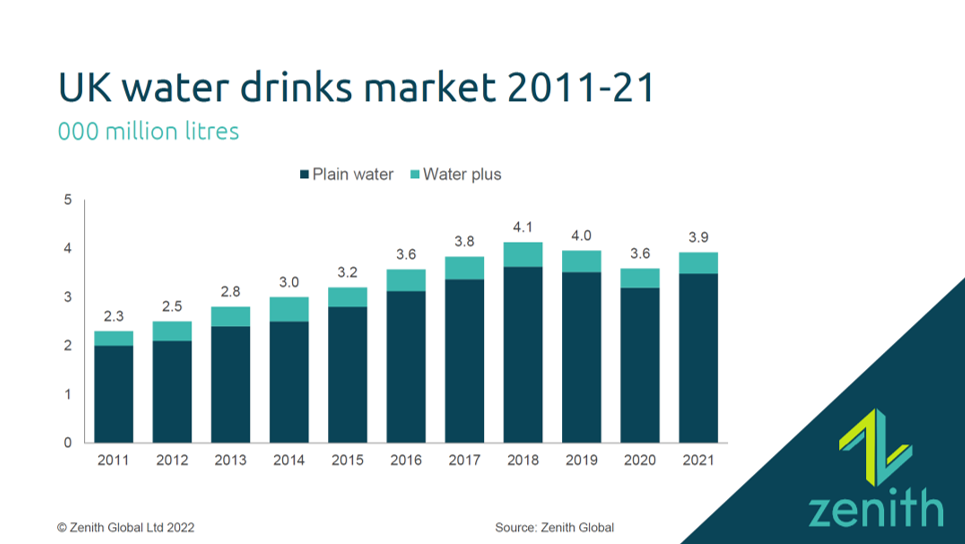 We're out of the 2020 slump, but not yet breaking the 4 billion barrier again
This marks the 31st consecutive year that Zenith Global has surveyed the plain (non-flavoured: still and sparkling) water market in this manner, and has compiled enough data to measure the trends and know what constitutes an average year.
Though we are still not fully recovered, Zenith Global's CEO Richard Hall has called it "positive progress" and declares the market "close" to returning to its 2018-2019 levels.
With this in mind, though the worst appears to be over, the industry is far from out of the woods altogether and has not yet returned to pre-Covid norms.
"Value showed stronger growth but remained much further from its pre-pandemic levels as a result of the closure of the hospitality industry for the first few months of 2021 and a fall in demand for on-the-go pack sizes in the convenience channel."
If the worst is over for water manufacturing, what's next?
According to Mr Hall, the next immediate bounce in consumer spending will come through cultural events:
"Since the UK market has picked up more buoyantly than previous forecasts, 2022 is expected to see further volume growth of 3%, boosted by events attracting renewed local and international tourism including the Queen's Platinum Jubilee and the Commonwealth Games in Birmingham."
Hopefully this report will contribute to re-energising the industry, and provide the confidence boost that end-users and distributors require to recoup pandemic losses and keep us all on track.
If you want to benefit from being a part of this brighter and more prosperous future, get in touch today, and we can connect you with an appropriate distributor. As a manufacturer of elite water refreshment solutions, we can also partner with you if becoming a distributor interests you.
For an abundant library of resources and updates on the drinking water industry, please visit our Learning Centre.