Is your workplace 'Fit for Future'?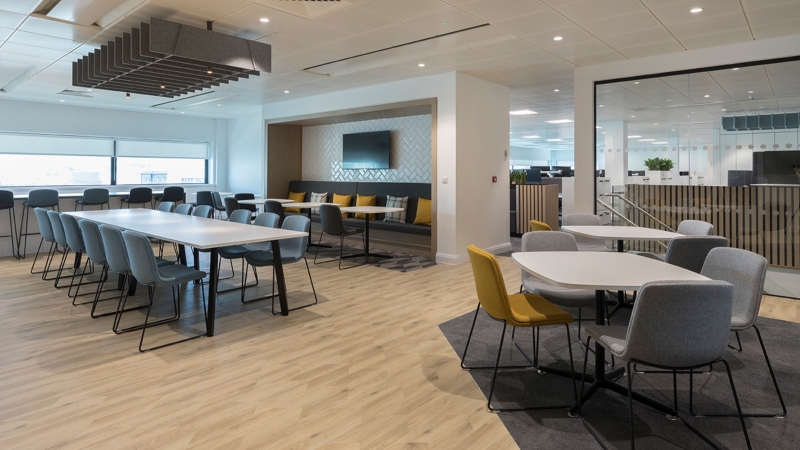 Image © : HLM Architects | Mott MacDonald Workspace
In a new report Avison Young, realestateworks and HLM Architects assess the pandemic's impact on the workplace and portfolio strategies in the longer-term.
The authors asked over 100 private and public sector companies about their real estate strategies. This included decarbonisation, remote working and the blending of physical and virtual workspaces.
Their findings are in line with other surveys we've read. The report shows how organisations are redesigning the workplace to be 'fit for future'. While some of these changes are new trends, others are trends that have accelerated as a result of the pandemic.
Report highlights
The office will become more than a place to do work with 78% of respondents expecting the workplace to perform additional social functions. "Organisations will increasingly provide physical and virtual workplaces that support and engage all employees whether physically present or remote working."
The physical workplace will remain relevant for many. "The enforced working-from-home experiment has further highlighted the need to provide a variety of controllable and adjustable environments to cater to a range of different personalities and tasks, to ensure the office facilitates employee wellbeing, productivity and job satisfaction."
Tied to this is the shift in attitude toward employee health and wellbeing. Virtually all respondents (98%) said that Covid-19 has raised the importance of health and wellbeing. "We need to recognise that the environment people work in is very important and employees need a 'destination' experience that includes a choice of spaces to personalise, collaborate and socialise within."
Technology of course is a necessary investment for businesses going forward, but this is expected to vary across organisations and sectors. "Technology will underpin the reimagination of how and where we work, supporting both physical workspaces and smart working models."
"Employees will expect a seamless experience from their physical and virtual workplaces with the integration of remote workers into meetings and conversations. Smart building technology will be used to optimise user experience, and give employees back control of temperature, sound, light and air quality."
The impact the workplace and its workers have on the environment is also under review, with 56% of respondents expecting to adapt their buildings to become more energy efficient. In addition, 71% expect to increasingly encourage employees to adopt environmentally friendly modes of transport to/from work.
The authors conclude that the pandemic has created a new base line and that the legacy of the pandemic will live beyond 2020/1.
Richard O'Neil, Chairman, HLM Architects, said:
"This research study uncovers a variety of real estate portfolio and workplace strategy insights. One such insight demonstrates that more organisations than expected aim to retain their valuable city centre locations, which seems at odds with initial fears that our city centres will drain out following the pandemic."
"Aspects of improved accessibility, innovative workplace design that fosters business culture, collaboration and employee wellbeing will be central to forward direction. Crucially, workplace environments will need adapting so that they can respond to change and reach their true potential as well as bringing flexibility with gains to bottom line value."