A tap system comparison: the T2 vs. the T3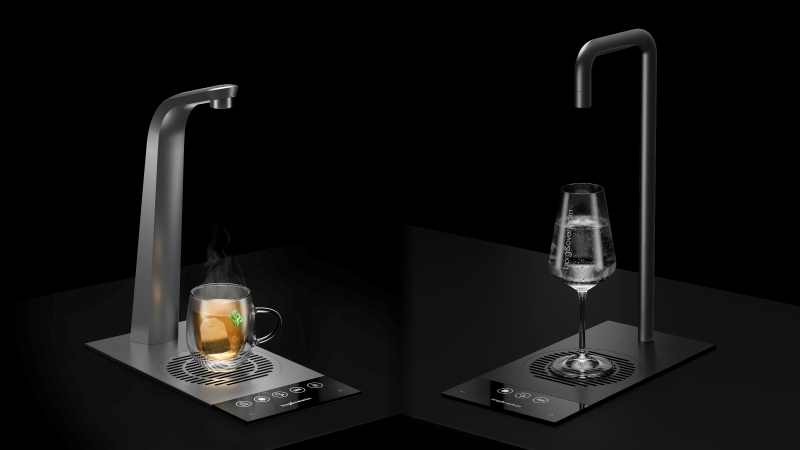 Considering either a T2 tap or a T3 tap system? Asking questions like "what are the benefits of a T3?" and "are these benefits worth it?". We're here to help.
Borg & Overström are continually innovating and pushing the boundaries of technology in order to enhance and deliver premium water refreshments, and have been doing so for the last 20 years.
Both as designers and manufacturers of the T2 and T3, there is no better place to receive all the information you will need to determine which water tap system will best serve your purposes.
It's true – the T3 has several new and exclusive features, but no buyer wants to arbitrarily settle on the newest model only to find out that a previous model would have served them just as well.
Our aim is to provide you with the product that best suits you. And on that note, let us compare, and by the end of this article you will have all the comparison data you need to know which tap system is best for you.
T2 tap vs. T3 tap: water dispensing options
One of the most important differences between the T2 and T3 is outlined in their dispense options. Borg and Overström introduced the T3 with the featured hot water dispense option.
In comparison, the T2 does not have this function, and so, if having hot water as a dispense option is high on your priority list then the T3 is definitely worth exploring further over its predecessor.
Looking at the number of options within a single unit, the T3 comes out ahead with a maximum of four (the extra option being hot water), while the T2 has a maximum of three. The T3, however, is more limited in the dispense variations only offering:
Chilled, sparkling, ambient and hot
or
Chilled, ambient, and hot
In direct comparison with the T2, though hot is not available, there is an extra variation of dispense options available brining the T2's total of dispense options to three:
Chilled and ambient
Chilled and sparkling
Chilled, sparkling, and ambient
Both of these tap systems come with ProCore+ variations of their listed options, which will yield a higher dispense output in litres-per-hour; 80 over the standard 50.
T2 tap vs. T3 tap: dispense height
The T2 comes with an overall tap height of 390mm and a dispense height of 310mm. The T3 matches this dispense height more efficiently, managing 310mm from its overall tap height of 338mm.
Both are equally valid choices for height alone, though the T3 would have a slight advantage in a more confined space with reduced overhead room to work with.
T2 tap vs. T3 tap: outer composition
The T3 comes in a unique diecast shape – a new design from Borg & Overström. According to our Research and Development experts, a diecast body means the water comes out on a more controlled gradient. This protects the user from any hot water splashes or spills.
The T3's body is made of a zinc alloy, differentiating from the classic stainless steel of the T2. A design that makes the T3 easier to recycle and longer lasting – a better environmental friendly fit.
It is worth noting that there is an exception found in the T2 black edition – this includes the added benefit of being PVD-coated – a metalworking method you will not find on any T3 model.
The PVD coating on a T2 improves scratch and fingerprinting resistance, and reduces the amount of cleaning and maintenance work required – a direct impact on the cost of maintenance that is definitely worth considering.
T2 tap vs. T3 tap: spatial requirements for installation
The two tap systems are almost identical in this aspect, with only one crucial difference: having a hot tap means installing a hot tank. Because of this, regardless of which version of the T3 you opt for, the T3's ProCore has a deeper unit as it needs room for this hot tank.
The difference will be seen in the unit's front-to-back depth:
T2 ProCore dimensions: 320mm x 375mm x 431mm
T3 ProCore dimensions: 320mm x 375mm x 371mm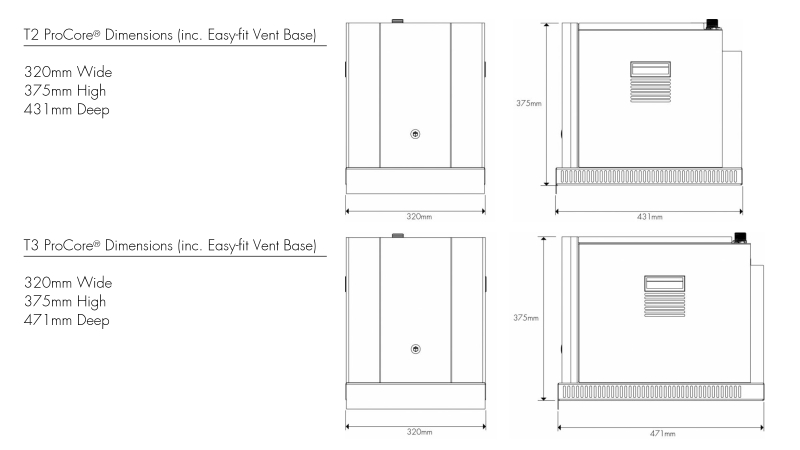 T2 tap vs. T3 tap: internal technology
Both tap systems are powered by the ProCore unit – both standard and plus versions. Both tap systems come with Eco mode installed, and both come with the option of installing Viovandt UV-LED filtration.
T2 tap vs. T3 tap: comparing energy consumption
There's no escaping the fact that one of the biggest spikes in wattage a tap system or water dispenser can induce is through dispensing hot water.
By comparing specifications, it is clear that the T2 would save significantly more on the energy cost front. Listed below is the max power consumption of each T2 and T3 variant, standard and ProCore+:
Does a T3 Tap or T2 Tap system suit me best?
Only you know your priorities when considering which tap system is best for you.
As manufacturers and designers of both the T2 and T3, laying out all the comparative information available is all we can do – the final decision is yours.
You don't need to worry about your options when it comes to accessories either, as both tap systems can be ordered with the same optional accessories, ranging from:
500ml refillable glass bottles
Printed paper cups
Install kit with 3M filter
refill station cabinet
We understand the importance of making a financial investment, and as such, if you're still undecided on either the T2 or T3, but know hot water won't be a priority for you, then further your research with the T1 or T2 comparison.
If a hot water dispense option is a priority, and you know that the new technology that comes with the T3 will best serve your purposes, then the next question you should ask is: "How much does a T3 tap system cost?"
Visit the official T3 product page and T2 product page for an overview of specifications and bonus features and know – we are here to help answer all your questions and will be able to put you in touch with your nearest distributor should you require.