How Glenn and Joanna improved warehouse efficiency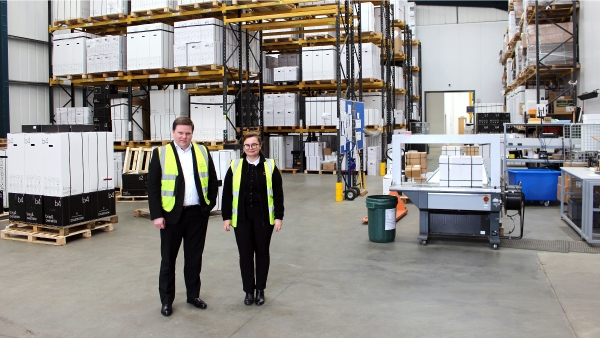 Our warehouse wasn't always this well-organised. Thanks to the hard work of two people, and their dedicated teams, our 'Goods In' and 'Goods Out' areas run even more effectively. It's part of a wider initiative to improve efficiencies across the business by eliminating wastage.
Glenn Crawshaw handles warehousing and internal logistics. Joanna Lewandowska is our Team Lead and Administrator for the Dispatch Warehouse. They've been working together to find more efficient ways of using the space, to ensure a continuous flow of goods onto and off the production line.
Keeping production moving
Top priority for Glenn was re-organising the warehouse. Finding parts was too time-consuming, despite the introduction of a new computer barcode system. This sometimes held up production or stopped it altogether.
"The number one goal in Goods In is to feed the line efficiently and on time," Glenn explains. "We started by grouping similar appliances together on the racks and arranging them by popularity." The appliance chassis that are used most often were also moved closer to the production line.
"We saved 45 mins per day picking parts for the production line," Glenn adds. "We can now provide the required subassemblies ahead of when they are needed, rather than have to close the line down while they wait for them."
Borg & Overström is continuing to grow by 15-25% year-on-year. With the changes we have increased warehouse capacity without additional floor space or people. "Our parts picker has managed to cope with the increase because of the changes," says Glenn. "Although we will soon need to expand the team, this shows it is more efficient."

Space-saving in Goods Out
Joanna also noticed inefficiencies in Goods Out. "There was no space, because of the pallets everywhere," Joanna recalls. With valuable floor space taken up with palleted units, the team were struggling to wrap and label them effectively ready for dispatch.
Glenn and Joanna introduced a trailer system. Appliances coming off the line are now wrapped, labelled and loaded straight onto the trailer. "The trailer sits in the yard all day and is gradually filled," Glenn adds. "This has made Goods Out more efficient and we're not stockpiling wrapped goods. This also helps ensure all our products are delivered to the high standards of quality expected of Borg & Overström."
The right team is key to change
Glenn and Joanna agree that having the right team in place has been key to making the changes. "We're much more organised now and the team is good," says Joanna. "You need to listen to people, to what they need, what they want. Before the changes were implemented the team would finish after five, even though they were meant to finish at five," explains Joanna. "I went to Glenn with my goal to finish at quarter to five. I use those extra 15 mins to make sure all reports are done. It's a simple thing but it makes people happy that we finish on time."
Improvement is a team effort
We value and reward good ideas and have recently introduced a new scheme to encourage more great ideas. Any team member is welcome to pitch an idea according to specific criteria. If a change results in a saving, we will give 10% of the 12-month saving to the team member who made the suggestion.
Continuous improvement of our products and service is a team effort at Borg & Overström. If you'd like to join the Borg & Overström team, visit our careers page for current opportunities.