New SWOT analysis of the water dispenser industry
What does the latest research reveal?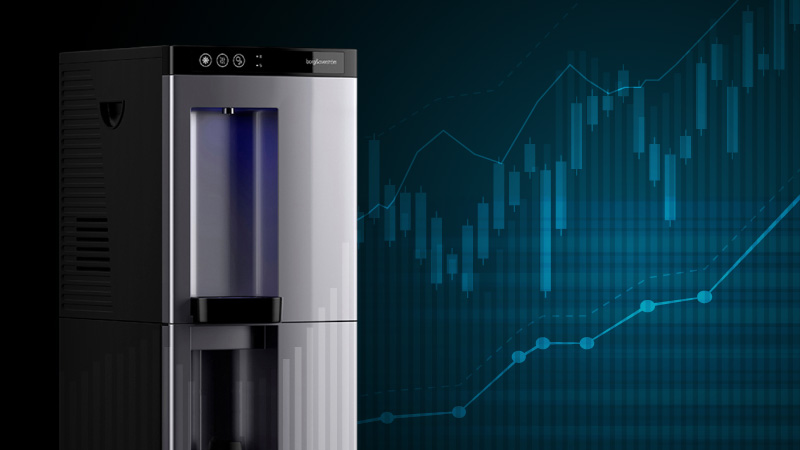 A new SWOT analysis by Data Bridge Market Research has just provided a sweeping systematic overview of key trends and upcoming changes in the global water dispenser industry.
The report predicts a "healthy" CAGR (compound annual growth rate) of 7.2% in the forecast period of 2019 to 2027. It also predicts the industry will be valued at 3.6 billion USD by the end. It cites the dual rise of hot and cold water access and quick use as a factor:
Increasing demand of instant hot and cold water among consumers is a driving factor for the market growth.
Businesses who provide consumer choice take the lead. Dispensers providing more options sell better because they are seen as "more cost effective and convenient."
The biggest potential growth sector
Children are still the future. The report looked at five sectors – residential spaces, corporate offices, schools/universities, HoReCa, and nonspecific industrial "others."
Although there is still variation by region, schools and universities are the global frontrunner. The drive for children having access to clean water is an unmovable universal goal. Furthermore, university spaces combine work, residential and leisure cultures, making them something of a hybrid environment.
Other essential drivers
In addition to the attractive selling point of more choice, Data Bridge narrowed remaining growth factors into the following areas:
Increased demand for automatic water dispensers in the Global South
Lifestyle decisions and public health initiatives; rising awareness of the personal and societal benefits of clean water
Ease of both installation and maintenance
An increasing number of commercial offices globally
Point of use water dispensing will not be overtaken
Already favoured for their huge capacity advantages for the individual user, POU dispensers are also better suited to meet the demands of projected population growth. Trends indicate that POU products will maintain this popularity over bottled in 2027 and beyond.
Asia-Pacific expected to take the lead
The summary boldly forecasts the Asia-Pacific market to "dominate" with the biggest share by the end of the forecast period. China will be the prime mover in the ascension of this market by providing products with comparatively easy installation features.
Investment opportunities
According to these findings, the main places distributors should monitor are touchless "gesture control" technology and remote-controlled technologies. Though more convenient, this is primarily a response to the ongoing Covid-19 pandemic, which has made cleanliness and consumable product hygiene a higher priority.