T1 – Like the U1 but with more advanced technology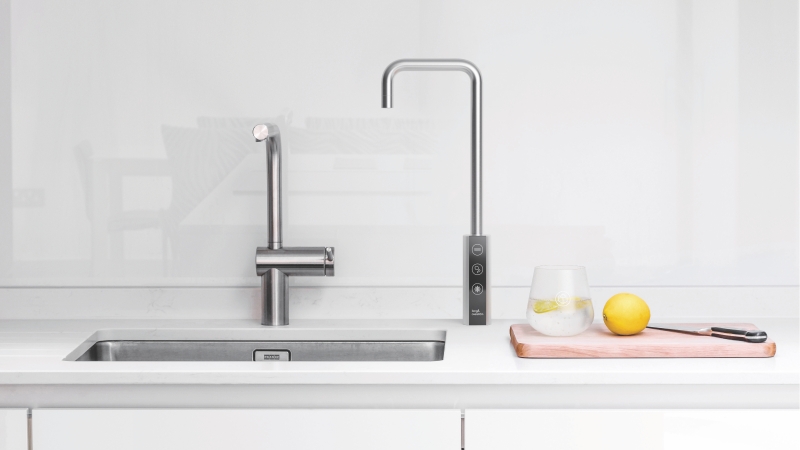 We've upgraded the popular U1 with more power, enhanced hygiene features, and a new look, making it ideal for modern workplaces where space may be at a premium.
The T1 has even more advanced dispensing technology packaged in a minimal, contemporary design. Here's how it measures up to the U1.
High-capacity dispensing
This system dispenses 50 litres of chilled, ambient, and sparkling water per hour. That's 150 per cent more than the U1. It also eliminates the need for single-use plastic bottles with a 35 per cent improved flow rate for refilling reusable vessels like personal drinking bottles.
Easy, versatile installation
We've designed this integrated tap system to be easy to install, particularly in small spaces. It requires a small hole to be cut in the worktop using a standard 35mm drill bit.
Unlike the U1, there are no fiddly wires to connect due to the plug and play USB 3 connector. It can be positioned over a sink or combined with a drip tray which can either be plumbed into mains waste or used with an alarmed waste kit.
Next-generation water processing
This system is powered by ProCore™ next-generation water processing technology. ProCore™ is more compact than previous undercounter units and built using our own design components from near-shore suppliers.
It's fitted with the eco R290 gas and Dry Chill® as standard, which is our most energy-efficient sealed cooling technology.
Hygiene built-in
The T1 has even more developed hygiene features. We particularly like the capacitive touch panel, which is more resilient and durable than the membrane used on the U1.
For additional protection, the tap is infused with antimicrobial technology. The additive is integrated into the surface, providing lasting protection against the transmission of germs and viruses via touch.
Furthermore, as an option, T1 can be pre-fitted with Viovandt®. This is a mercury-free, chemical-free and energy-efficient LED-UV water purification system. For complete peace of mind, it also includes additional hygiene features via Borg & Overström's Totality® methodology.
Sleek design with a premium finish
The T1 is finished to an even higher standard than the U1. The tap is PVD coated for a more durable and flawless finish. The ProCore™ undercounter cabinet is colour-coated GreenCoat® steel.
We've also designed an optional circular drip tray to complement the new tap. Combined with the new tap, the T1 is a sleek, minimal, and contemporary design to suit any modern interior.
T1 – latest addition to integrated tap series
The launch of T1 follows hot on the heels of the T2, which came to market in January. It may not include all the digital features of its bigger brother, but it makes up for it with dispensing power and versatility.
For an even higher spec commercial system, we recommend the C-series. The two-way or three-way tap set-up is designed for high-capacity dispensing, such as hotels and restaurants.
For more information about any of our tap systems, get in touch.