Mercedes Benz hosts Borg & Overström 2020 team strategy day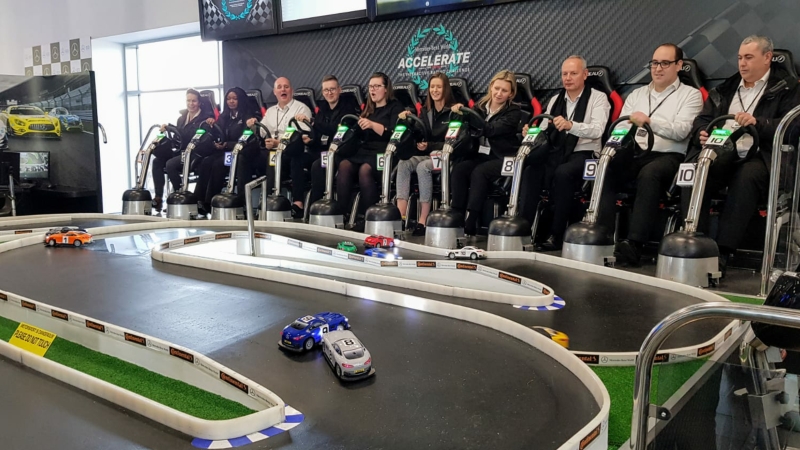 Last week we had a fantastic day of strategy, competitive racing and team building at Mercedes Benz World in Weybridge, Surrey.
Each year we close our doors at Borg & Overström HQ for one day and take the whole team off-site. Ongoing staff training is an important part of our commitment to continuous improvement, so it's essential that our entire team is together and ultra-focused for a day. It's also an important opportunity for people who don't often work closely together to strengthen relationships, socialise, share stories and ideas.
Last year we enjoyed driving the muddy off-road tracks at Jaguar Land Rover, while thinking about how we could improve efficiency and productivity in the business. We're pleased to report that 2019 was an exciting year for us with significant milestones being met.
The theme for the 2020 strategy offsite was 'brand ascendancy and innovation'. Mercedes Benz is one of the top 10 most valuable brands worldwide. Being surrounded by such an iconic and historic brand enabled us to focus on ours, and to draw parallels between the Borg & Overström journey and that of Mercedes Benz.
Following formal presentations in the morning, the team engaged in a number of racing activities. It turns out we're a fairly competitive group of people. Activities included fastest lap on the racing simulator, remote-control car track racing, hot laps with a professional driver, and skid pan driving.
The winners were:
Remote Control Contest – Tereza Dixon, Finance – lap time: 12.38 seconds
Silverstone GT Simulator Contest – Beril Akad – lap time: 2 min 07 sec
If you'd like to join us on our next strategy day, visit our careers page.