The office of the future is touch-free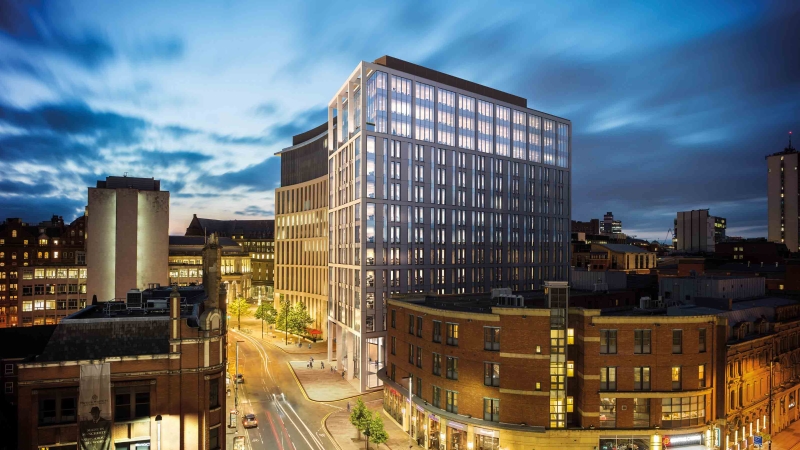 In the not-too-distant future it'll be possible to navigate entire buildings touch-free. From the moment you enter, to arriving at your desk, you won't have to touch a single handle, switch or turnstile. In fact, it's likely that somewhere in the world you already can.
Technology such as automatic lighting, hands-free toilet facilities, and touch-free elevators have been around for some time. In 2020 these 'nice to haves' have become essential requirements and demand is increasing.
The safety and wellbeing of building occupants is now a primary concern. CBRE's 2020 Occupier Flash Survey, conducted in May 2020, concluded that touch-free technology is expected to be adopted by 45% of those surveyed, with 41% reporting an increased interest in buildings with WELL or sustainable features.
New developments in the UK provide us with a glimpse into what the office of the future could look like.
Virgin Money headquarters – a touch free environment
Virgin Money is one of two companies taking up occupancy in a new office building in Glasgow Scotland. The pandemic prompted the developer to review health and wellness measures to eliminate the need to touch switches and buttons.
Occupants will be able to operate security gates, lifts, and lights all from a smartphone app. The restrooms will be fitted with sensors to remove the need to touch soap dispensers, hand drying facilities and toilets.
The building will also have a dedicated loading bay and centrally located delivery lockers so mail can be delivered directly between supplier and customer.
Landmark development in Manchester UK
A new development in Manchester city centre will offer occupants a touch free experience due to a network of smart technology features. These include ultra-fast connections, intelligent destination control lifts, smart building management systems, and intelligent LED lighting.
Ian Mayhew, managing director at Barings, the real estate investment management group behind the development said: "From entering the building, either on foot through the revolving doors, or by car or cycle, occupiers and visitors have a completely touch-free journey through the building to their office destination in large part thanks to the bespoke occupier app working in conjunction with smart access controls and visitor management systems."
Refreshment technology for touch-free offices
In the touch-free office of the future, refreshment services will also be automated to reduce touch. Automation was always going to be the next logical step for the office water and coffee industry.
The adoption of touch-free appliances has been accelerated by Covid-19, but the desire for such solutions is part of a long-term consumer trend. Earlier this year we released our first touch-free water dispensing solutions to help businesses respond fast to the pandemic and provide reassurance to employees returning to work.
We wanted to design low-cost solutions that wouldn't require customers to install new appliances or make complex modifications. There was immediate demand for our foot pedal conversion kit and touchless water dispensing mobile app. In fact, demand was so high for the mobile app on launch day it temporarily took the website offline. Both solutions can be retrofitted to any existing B3.2 or B4.2 dispensers by a qualified technician.
As more businesses reduce touch in their offices, we expect demand for touchless solutions to increase. We're currently looking into bringing in touchless options as standard on all new water dispensers, rather than it being just a retrofit option.