10 sales tips from our team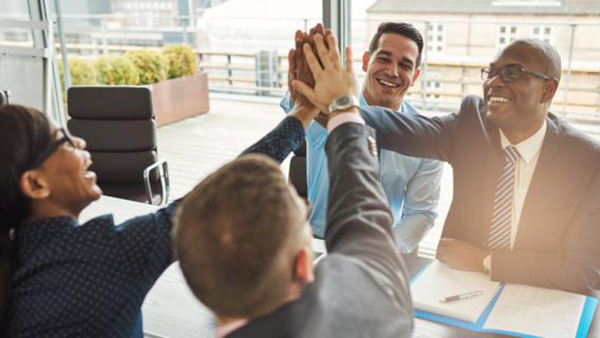 As summer nears it's end, and we hit the mid point of the month, our targets loom large. It can be difficult to find the extra portion of motivation we need to push us closer towards our goals, so we've asked our sales teams for their top advice for injecting a little bit of motivation and inspiration into their daily schedule. Here's what they had to tell us…
---
1. Sell an experience  
'Sell an experience, not a product! Your products may change, but your service levels never should. Customers are loyal to how you make them feel, not what you're selling them'
If you'd like to learn more about enhancing your brand, enrol in our Brand Workshop today.
---
2. Consistency
'You need three things to make a great customer experience and keep them coming back…consistency, consistency, & consistency…no surprises, just the same experience every time'
---
3. Reframe your problems 
'We see the world in the way we choose to frame it, and the same applies in the workplace. When faced with a problem, think creatively: communication problems? This is your chance to try new channels. Stock difficulties? Consider alternatives!'
---
4. Reflect communication methods
'Always respond to your customer in the same method they have chosen to contact you. As well as being common courtesy, your customer will feel comfortable and well attended to within your interactions'
---
5. Try new platforms
'60% of UK adults use social media, do you want your business to be part of the 40% left behind? Social media presents a fantastic opportunity to integrate our working lives with our personal lives, appealing to customers across the spectrum'
---
6. Infuse knowledge 
'Silos are counterproductive. Ensure each and every department of your business has comprehensive product knowledge, so customers are provided with a complete service at every touch point'
---
7. Learn continually 
'The industry is constantly evolving and we know that we must adapt to keep up. That's why we believe in growing through training and education – never settling for 'how it's always been done'
---
8. Revisit your mission statement 
'Your mission statement should be what drives you, so expect to check that road map frequently! If you remind yourself of the underlying aim of your business, it will naturally infuse all of your customer interactions and sales, ensuring a comprehensive, consistent service'
---
9. Keep your customers happy 
'We all know and abide by 'the customer is always right', but do we make sure the customer is always happy? Implement a thorough aftercare service, acknowledging all customer concerns and suggestions. Happier customers are, in turn, far more likely to recommend you!'
---
10. Do your research 
'If you don't truly know your customers, how will you truly meet their needs? Take the time to thoroughly research your customer, and your customer demographics. This will assist you in shaping your products and service offerings so that, not only will they appeal to your customers, but the experience of trading with you will truly benefit them'
---
The Borg & Overstrom Academy 
Here at Borg & Overstrom, we've evolved over time; our product range and service offering has expanded dramatically, but if there's one thing that hasn't changed, it's our commitment to brand!  We had lots of requests from our distributors for support and tools, and this led us to create the Borg & Overström academy. Our academy uses training workshops and demonstrations to empower you to become leaders in your marketplace.
There are multiple workshops and sessions available, depending on your preference. We have a brand training workshop, to show you what Borg & Overström is all about, how we work, the secrets of our success, and how you can apply these to your own business. Our sales training workshop offers the opportunity to be trained by sales veterans, who discuss how to be proactive in your sales pipeline, how to build an effective pipeline tracking system and how to deliver a strong presentation.
If you'd like to find out more about our exclusive academy, contact us today.
Email : [email protected]
Phone : (+44)01362 695006
You're reading an article from the Borg & Overström Academy programme.
Borg and Overström are a manufacturer, and trade-only supplier, of innovative, quality, water systems.
We take pride in working with our clients to help them to develop their businesses, providing tailored sales, marketing, and technical training and advice.