A fresh take on distributor resources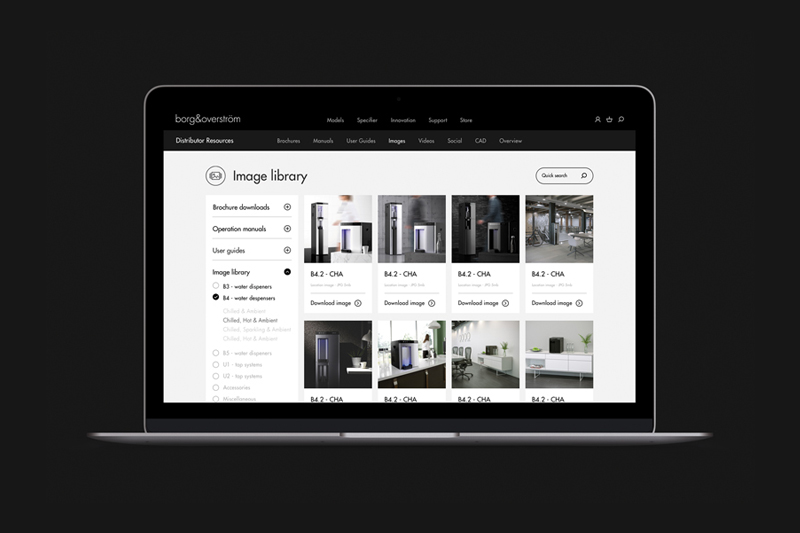 We recently carried out some work on the Borg & Overström website to make managing your account with us faster and more convenient. This included redesigning the distributor resources section to ensure partners have easy access to up-to-date literature, photography, and video.
Our mission is to empower our partners to achieve more. Distributor resources is an important part of this mission. It's where Borg & Overström partners can access product, marketing, and company literature and imagery to support the development of their business.
Brochures: all product brochures and the new brand brochure
Manuals and user guides: across the full product portfolio
Images: photo library of product and location images for use in digital and print
Video: product showreels
Social: regularly updated with new image and video content promoting both product and brand, already sized for use on Twitter, LinkedIn, Facebook and Instagram
CAD files: for use with specifiers
Overview: company overview for download
We've made it easier to find these important resources by introducing filters and quick search functionality. You can download the files onto your computer from anywhere with an internet connection.
New webstore live
Partners are now also able to purchase new water dispensing systems, replacement parts, and accessories at any time and from anywhere via the webstore. A key feature of the store is the accounts area where users can access their full account history, and a user-friendly product search function.
Register for our live webinars and get the most out of the Borg & Overström webstore.
Register your interest here