The new E-Series makes a splash on their global debut at the NAMA Show 2023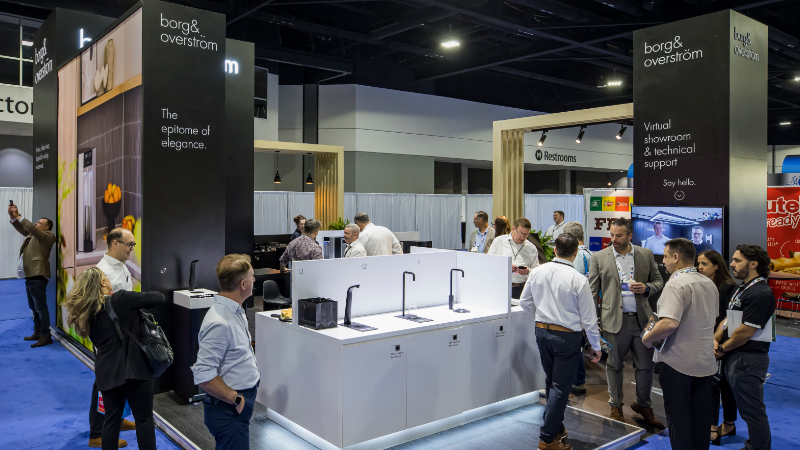 While the temperature in Atlanta, Georgia soared, Borg & Overström made a splash at this year's NAMA (National Automatic Merchandising Association) Show with the launch of our new range of premium filtered water dispensers – the E-Series.
Standing proud against a backdrop of renowned brands including Nespresso, DeJong Duke, and Evoca, the Borg & Overström stand brought our refined 'black and white' style and latest innovations to the show.
Serenaded by the dulcet tones of a grand piano, the E4, E6, and E7 made their much-anticipated debut, as visitors to the stand got to experience first-hand the latest evolution in point-of-use premium drinking water dispensing, boasting the latest in efficient and eco-friendly technologies.
Eye-catching designs and intelligent technology
Matching eco-friendly designs with a sustainable business culture, Borg & Overström's vibrant aqua-coloured E6 dispensers, with recycled plastic front panels, added a touch of colour to the otherwise monochromatic colour scheme, whilst staff continued the fight against plastic pollution by offering passers-by a reusable water bottle, filled with freshly-filtered water.
It wasn't long before other exhibitors were frequenting our water refill stations, and everyone was requesting our little black gift bags!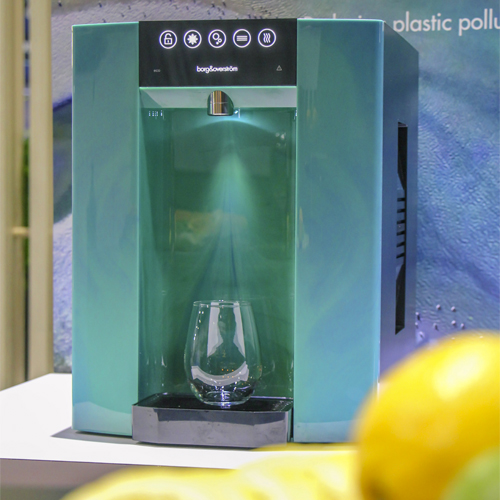 In addition to the new E-Series, we had the privilege of sharing our latest intelligent technology and integrated tap systems with NAMA visitors.
The innovative new SensorBeam™ touchless dispenser with unique projection mapping technology caught the imagination of many. With a simple and graceful motion of their foot, attendees were delighted to fill, and refill, glass after glass with freshly-filtered water.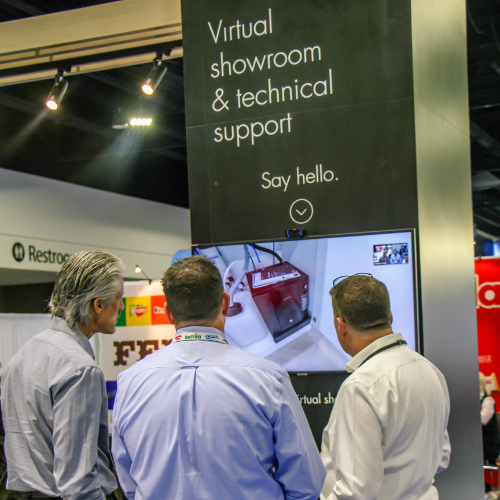 Meanwhile, elsewhere on the booth, visitors were able to immerse themselves in our virtual showroom, where they could engage in direct conversations with our knowledgeable experts based in the UK.
This interactive experience allowed visitors to gain first-hand insights, ask questions, and explore our innovative products and solutions in real-time.
The virtual showroom proved to be a dynamic platform that bridged distances and facilitated meaningful connections between our experts and the enthusiastic attendees at the event.
An industry of innovation
With a plethora of snacks on parade, a host of groundbreaking innovations and emerging trends were showcased. Attendees had the opportunity to engage in meaningful conversations with prominent industry figures and explore the latest industry tech, all while enjoying a wide variety of snacks on display.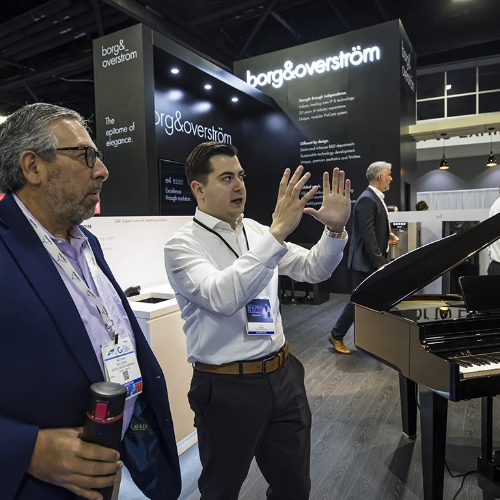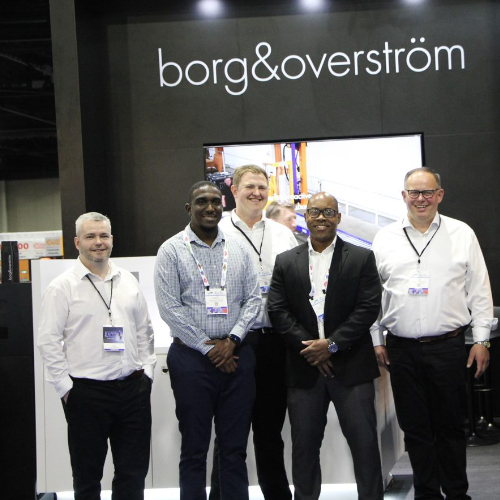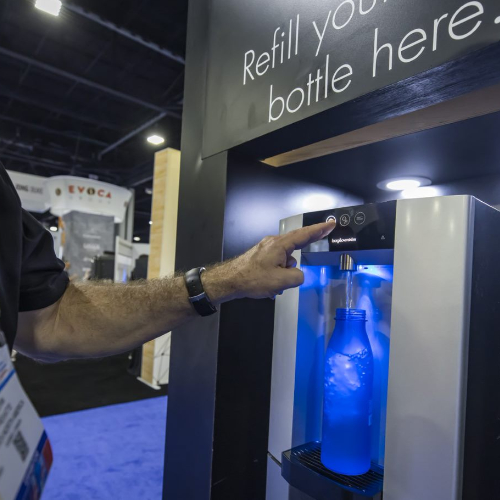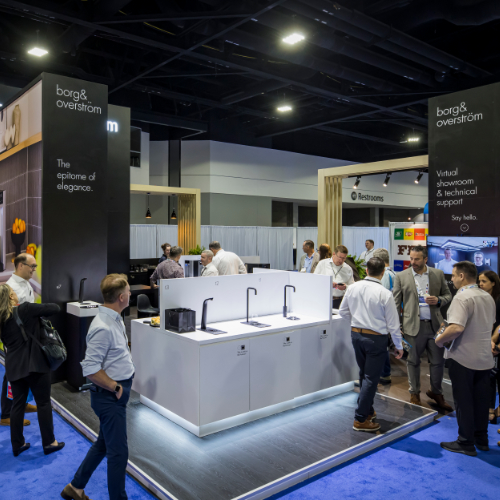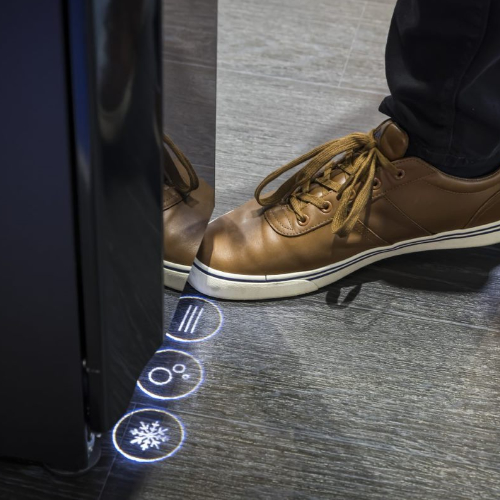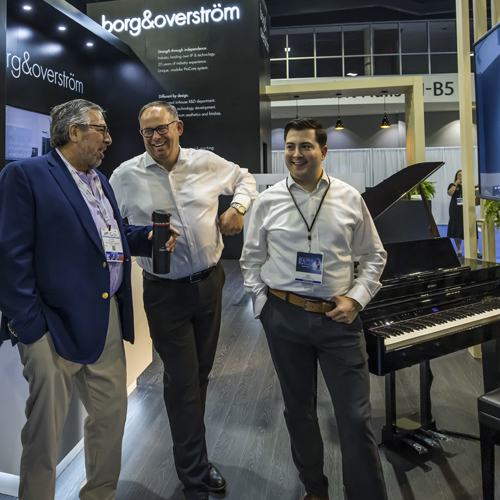 After a truly wonderful and insightful NAMA Show, meeting with both industry leaders and specialists, we are truly looking forward to what the future holds for both Borg & Overström and the wider market. As AI and smart vending technology become more integral and technical capabilities advance, we eagerly anticipate the future prospects and possibilities ahead.
The future of intelligent water dispensing

Want to learn more about the E-Series? Download your own E-Series booklet for all the latest information and discover the innovative features, eco-friendly technologies, and tailored solutions.
Experience the future of water dispensing with an exclusive, virtual showroom demonstration.
Book your virtual showroom visit now!
We specialise in helping customers find their ideal fit. If you have any further questions or inquiries – contact us – our expert staff are ready and waiting to help you.