Introducing the latest evolution in intelligent and sustainable water dispensing: the E-Series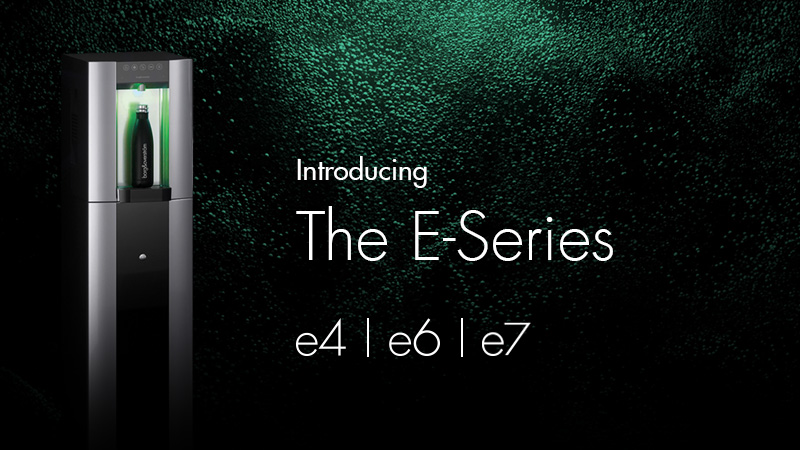 The wait is over – Introducing the E-Series.
For over 20 years, Borg & Overström have been at the forefront of premium water dispenser designs. Now, with the launch of the E-Series, we're taking things to a whole new level.
Each evolution, the E4, E6, and E7, delivers powerful performance with energy-efficient technology in environmentally sustainable designs, providing tailored solutions to suit your specific needs.
A cost-effective solution to premium water, the E4's 3-way dispensing versatility allows for complete convenience in a compact and modular design, making it an ideal fit for both office and educational environments
The flagship model of the E-Series – the E6 – stands as the latest evolution in premium bottleless drinking water. Combining intelligent, eco-friendly and energy-efficiency technology, the E6's powerful performance is perfect for boardrooms, healthcare and all sustainability focused workplaces
A refined, floorstanding tap-styled dispenser, the E7 combines energy-efficient technology with eco-refrigerant cooling to deliver effortlessly elegant hydration. With the state-of-the-art SensorBeam™ technology for touchless dispensing, The E7 is ideal for both luxury corporate and retail environments
Discover how the E-Series will evolve the way you drink, with:
Energy-efficient technology
The E-Series introduces the next-level in evolved and intelligent water dispensing technology, offering you a range of innovative features that are designed to provide you with the best possible drinking water experience.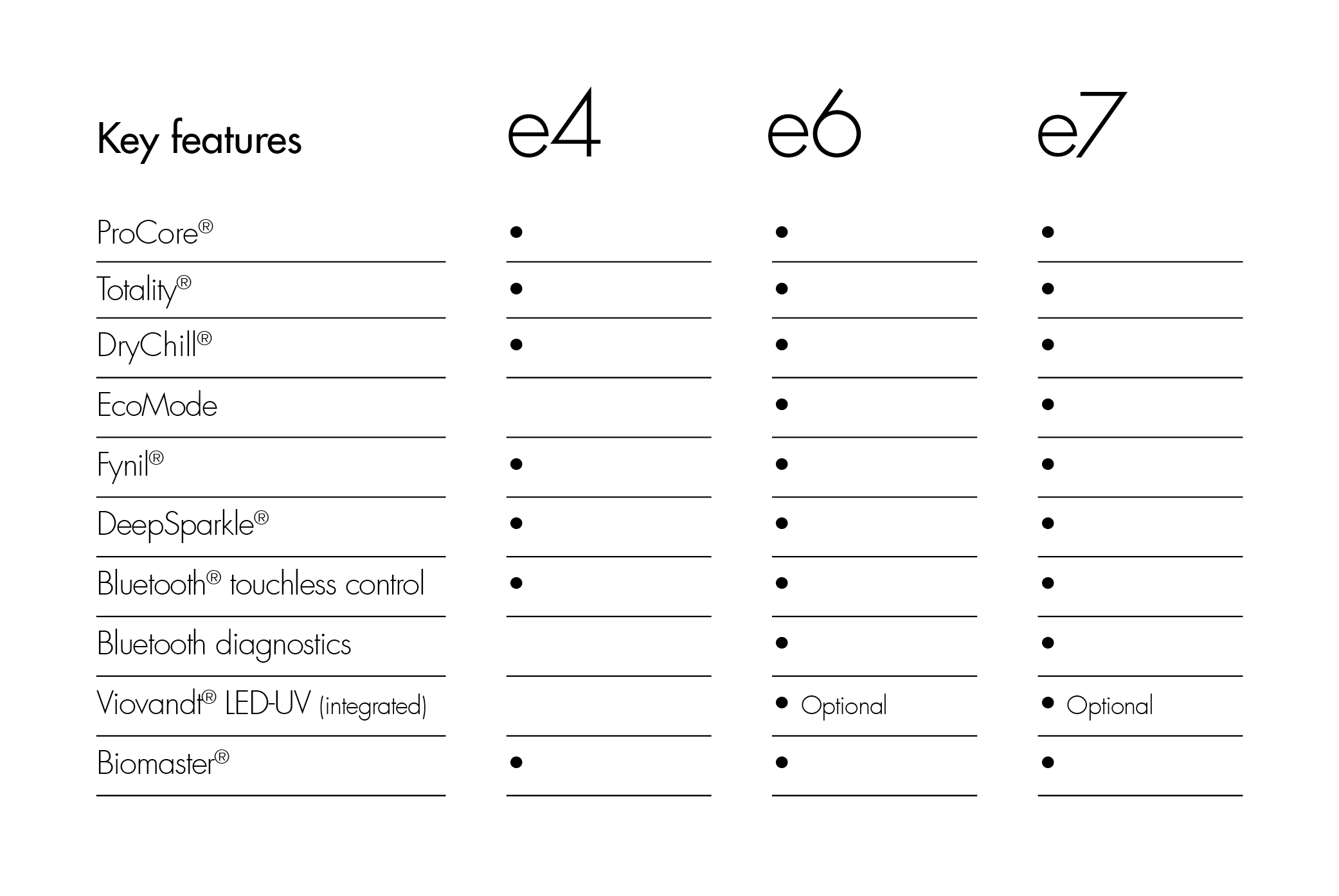 From improving our cooling systems to be more energy-efficient, to implementing intelligent energy-saving EcoMode technology, each feature has been designed to optimise efficiency, durability and performance, ensuring that your water is not only fresh, filtered, and great-tasting, but also reduces energy consumption and running costs.
A stand-out feature of the E-Series is our exclusive ProCore® modular system. Combining style, convenience and sustainability, all into a single and compact design, the ProCore® is the engine for our next-generation of water dispensers and tap systems, housing our most advanced innovations.
In addition, the ProCore® provides a unique versatility. With the core technology remaining consistent across all models, the processor, or 'core', of your Borg & Overström water dispenser or tap system will always be the same. This offers an unparalleled adaptability, allowing for an easy transition between any Borg & Overström model, and efficient consistency in all servicing and part replacements.
For a complete and detailed list of compatible features – download your very own E-Series booklet – and discover how our innovative technology can enhance your water experience.
Evolved design and performance
For over 20 years, Borg & Overström have become renowned for premium water solutions with unique aesthetics, powerful performance and exquisite finishes. The E-Series stays true to this legacy.
Designed by our in-house Research and Development team, each water dispenser is crafted with considered ergonomics for the discerning eye. Utilising the latest in evolved water technology, the E-Series delivers an elevated, powerful performance across the board.
| Dispense litres-per-hour (L/h) | E4 | E6 | E7 |
| --- | --- | --- | --- |
| Chilled, ambient & sparkling | 50 L/h | 50 L/h | 50 L/h |
| Hot | 15 L/h | 15 L/h | 15 L/h |
We believe that functionality can be beautiful, and that great designs make for enjoyable experiences. Proud to stand out from the crowd, the E-Series pairs practicality with desirability, championing confidence with sleek and sophisticated aesthetics.
Environmental sustainability
Committed to being a proactive and sustainable business, the E-Series utilises the latest eco-friendly technology, harmonising powerful performance with energy-efficiency and sustainability, eliminating the need for single-use plastic bottles.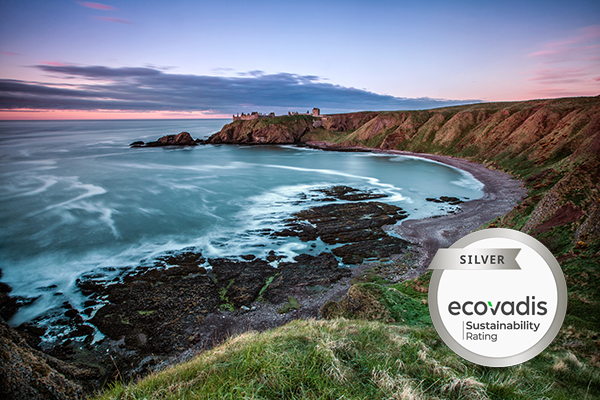 Designed and built in the UK in our zero-to-landfill facility, the E-Series is sourced through a nearshored supply chain and uses environmentally friendly components where possible. From eco-refrigerant cooling to recyclable packaging, the E-Series demonstrates our commitment to achieving a complete sustainable approach to great-tasting, filtered water.
Benefiting from our nearshored supply chain, all components that make up the evolved E-Series are sourced from within Europe. This not only reduces the carbon footprint of each dispenser but also provides a more stable and agile supply chain, helping us to fulfil orders promptly and with fewer interruptions.
Learn more about our commitment to sustainability and discover how we're creating a greener future through sustainable designs.
The next step in sustainable hydration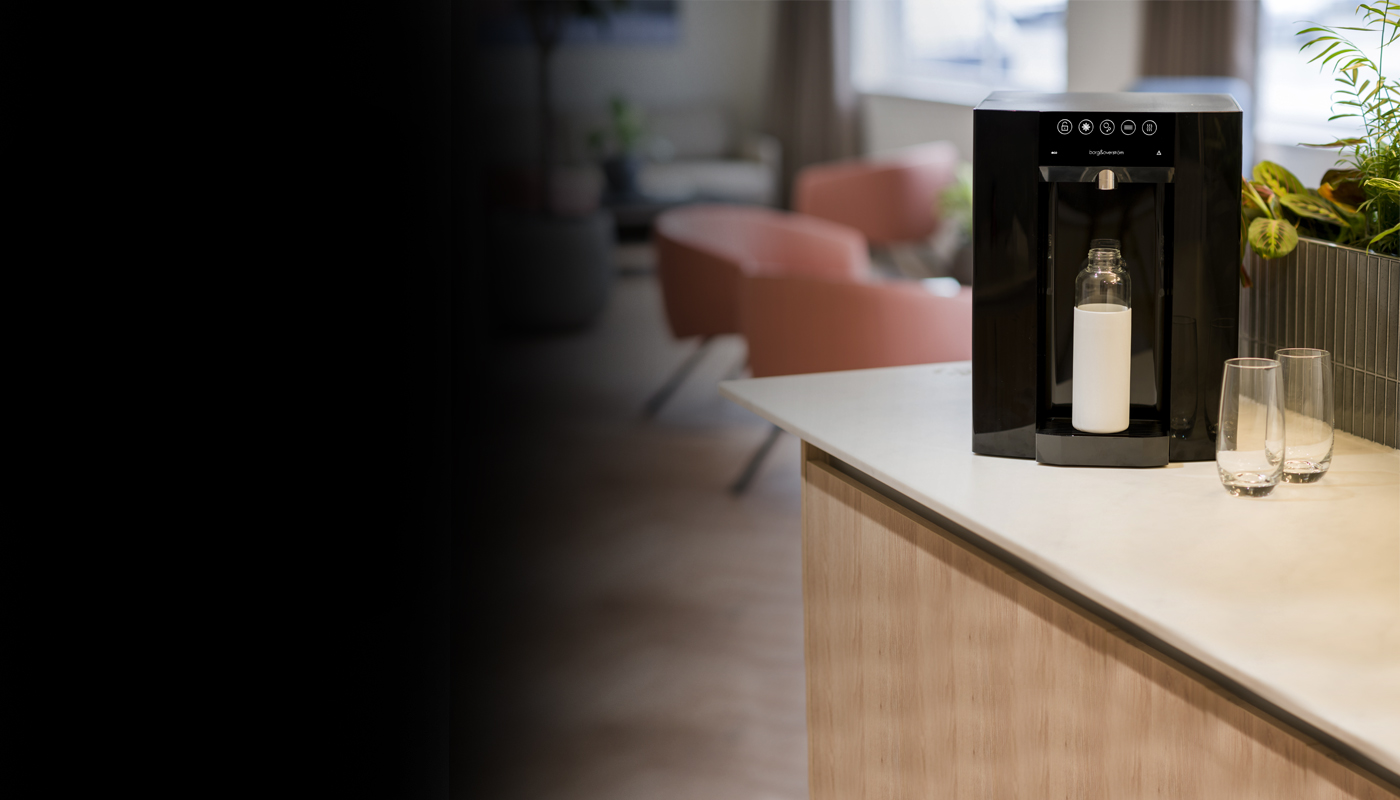 Embarking on a new design era that prioritises increased sustainability and progressive performance, the E-Series embodies our mission – to provide exceptional and sustainable drinking water experiences without the need for single-use plastic bottles.
Evolve the way you drink and find out more about the latest evolutions in water dispensing:
Want to learn more about the E-Series? Download your own E-Series booklet for the latest information and explore all the NEW features and tailored solutions.
Be the first to experience the future of water dispensing with an exclusive, virtual showroom demonstration.
Book your virtual showroom visit now!
We specialise in helping customers find the ideal water solution, so if you have any questions or inquiries – contact us – our expert staff are ready and waiting to help you.