How much does a E6 watercooler cost?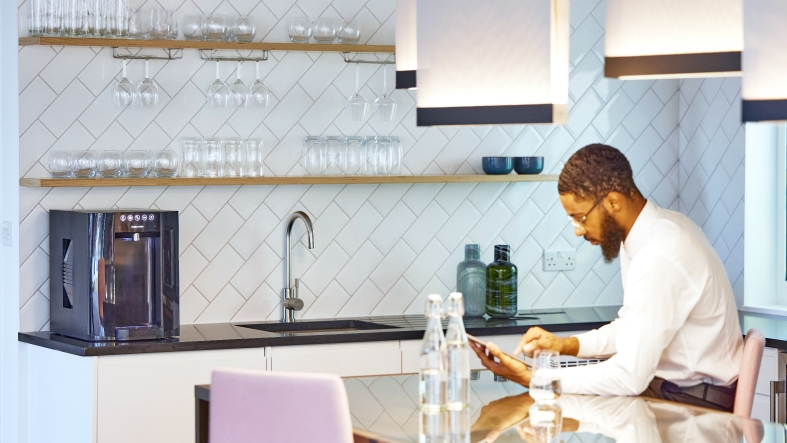 Our most recent launch at Borg & Overström debuted the E6 water dispenser, which we have called our most advanced yet. Money talks, and no promotional run is complete without an honest and thorough explanation about cost and pricing.
First of all, the E6 watercooler has a wide price range depending on your country. For example, in the United States you might expect to pay from $8.99 to $17.99 per week.
Or if you're in the UK, rentals for products there tend to range from £7.99 to £15.99 per week.
Let's take a quick look at how much the specifics of your order can affect purchase, using a B4 countertop dispenser as an example. These two images are from separate distributors, each selling a B4 countertop dispenser, but with different setups.
If you're not familiar with how we do business, here's a reminder that Borg & Overström sell through our distributors only: we do not provide water dispensers to the consumer directly. This arrangement means that you won't find a standardised price fixed to all E6 dispensers. And our distributors have their own justifications for the price tag..
So, there's no uniform, set cost and this can be a little confusing. How do we figure out what the E6 is going to cost you? Let's break the factors down. By the end of this article, you should be able to understand, anticipate and navigate inevitable and potential expenses.
What expenses come with purchasing and installing a premium water dispenser?
Cost goes beyond money changing hands on purchase or leasing; it's a package encompassing every expense you'll have to consider to both acquire and maintain your cooler.
There are two kinds of costs which we need to clearly define and lay out here, with additional factors to consider. Weigh them all up before you make your choice. There are plenty of good arguments for each. We have previously compared the pros and cons of each arrangement in this comparison piece. Be sure to also look at our accompanying complete guide to water cooler rental.
How much does it cost for long-term rental of a E6 watercooler?
Renting a E6 will come with a small, digestible fee that the facilities manager can easily track on a monthly budget. This is a preferable option if your current budgeting plans do not have room for large, singular purchases all at once. Distributors do not sell Borg & Overstrom water dispensers through instalment payments.
Like many rental arrangements, the upside to not owning outright means not worrying about the cost of repair or upkeep, which will be covered by your distributor. They can handle the unlikely event of fixing technical faults which cannot be solved remotely by dispatching qualified technicians to mend the machine or install new parts and accessories.
How much does it cost to own a E6 watercooler?
When you buy, it's yours for good. A higher payment now may mean long-term saving on a macro scale. End-users who buy can enjoy a water machine lifespan of at least seven years and a boon to business which would result in a return on their investment.
They will also be free to customise or sell their dispenser if they desire. Purchased assets can also be offset against your business's taxes.
However, owners will have to deal with the additional costs of maintenance.
How much does it cost to maintain a E6 watercooler?
This is a cost that may potentially be heavier upon purchasing than renting; as outright ownership means responsibility and liability. And we haven't even gotten to the nuances of the product variations yet. Let's break down the main factors into model type and work environment.
How does the kind of E6 model influence cost of ownership?
First ask yourself: "How many dispense options are necessary in my workplace?"
The E6 comes with a minimum of two dispense options and a maximum of four, though remember that these are not available in every combination. They are:
Chilled and ambient
Chilled, sparkling and ambient
Chilled, ambient and hot
Chilled, sparkling, ambient and hot
We are once again at the juncture of short and long term expenses. Naturally, a dispenser fitted with three or four options will cost significantly more than two, but will prevent the need to purchase or rely on other refreshment solutions within your workspace. For example, a E6 with a hot dispensing option will mean one less kettle or hot tap in your kitchen or break room.
The final three options also require significantly higher wattage, with hot taps making the most costly difference. See the table below for the precise figures and measure the potential cost per kilowatt with the relevant rate in your area (for example, this unit cost collation for the UK).
The energy bill reduction from purchasing a Chilled and Ambient is considerable, but won't make up the price difference from initial purchase or rent.
How will the work environment impact the cost of the E6?
This will depend on the number of employees and guests that will be using your E6.
Gyms, sports training facilities, swimming pools and holiday resorts see the highest footfall and most frequent levels of use, which will contribute to wear and tear. There are also seasonal considerations here; summer brings heatwaves which will drive up demand, and dispensers with hot options are favoured in the winter.
Water dispensers placed in schools are traditionally installed with vandal-proofing measures such as extra panelling and strategic placement.
Summary: baseline and hidden costs for the E6 watercooler
So, let's put it all together.
Inevitable costs invoked:
Electricity
Maintenance
Filters
Conditional costs invoked:
Ongoing rent (small but permanent)
Additional features and accessories
Repair
Base cabinet
Sanitisation (for example, water coolers at swimming pools accumulate more bacteria)
How much room does your budget have for all of these as standard practice, and how much wiggle room is there in your reserve of funds? These are not easy questions to answer, but hopefully this breakdown has provided some idea of what you're getting into when renting or purchasing a E6.
Once again, let us remind you that the team at Borg & Overström have decades of experience in aiding end-users, distributors and business partners navigate these issues. You are welcome to browse the product page for the E6 specifications which suit you best and contact us with any queries.