Guide to safe hydration in the workplace 2021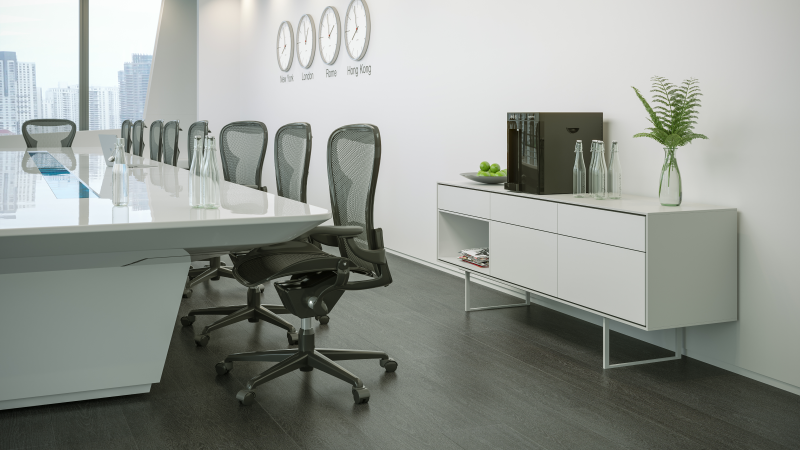 In this guide we show you how to ensure your water dispensers are safe to use, and how to help your team feel more comfortable using them.
Employers must address both actual and perceived risk
It's natural that some people will feel apprehensive about returning to work. What once felt normal may now make people feel uncomfortable. Like being in closer proximity to others and touching common surfaces like door handles.
"Out of 4,553 office workers in five different countries, every single person reported feeling anxious about the idea of returning to in-person work." (Fast Company)
Employers must therefore address not only the actual safety of their staff, but also the perceived risk. This means helping people to feel comfortable and safe being with others in the workplace.
Water dispensers are one of the frequently touched surfaces that people may feel apprehensive using. Adequate hydration is essential for both physical and mental wellbeing, so it's important that your staff feel confident using the water dispensers in your workplace.
"Did you know that simply staying hydrated can boost the immune system? "The mouth and throat are on the front lines of the body's defences, but they cannot do their job as well when a person is dehydrated." (Medical News Today)
Reintroducing workplace hydration
1. Professional recommissioning of water dispensers is essential.
Water systems that are left idle for a long time have the potential to cause serious health issues. This is because the microbial quality of the water inside deteriorates over time. Ideally, if a water dispenser is to be left unused for more than two weeks it should be decommissioned by a qualified engineer and placed in storage.
Recommissioning should also be carried out by a qualified engineer, who will complete a full internal sanitisation procedure. It's also advisable to replace the filter and clean all external contact points. For advice on recommissioning contact your distributor.
2. Always keep the external surfaces of your water dispensers clean, especially the contact points.
It's important to continue with daily external cleaning of all contact surfaces using a proprietary disinfectant cleaner, in addition to scheduled routine internal sanitisation.
If either of these are not already in place, they should be implemented immediately. You should also consider, on an individual basis, increasing the frequency of your daily external cleaning regime to reflect usage and risk.
We recommend that bottle-fed water systems are sanitised at least every 3 months and Point-of-Use (POU) every 6 months. These should be carried out by a trained professional.
3. Reduce risk and increase confidence with touch-free water dispensing.
The adoption of touch-free appliances has been accelerated by the pandemic, but the desire for such add-ons is part of a longer-term consumer trend.
There are many more solutions now available on the market such as Borg & Overström's retrofit footswitch or water dispensing App kits. A foot switch or app enables people to dispense water touch-free. This makes them ideal for use in high footfall locations such as offices and factories.
4. Reconfigure water dispensing points to facilitate social distancing.
As employees return to the workplace you may need to move or increase the number of water dispensers to facilitate social distancing.
You may also want to consider replacing lower end or old water dispensers with newer POU appliances. Look for models with built-in hygiene features such as a sealed cooling system like Direct Chill® and touch free operation.
5. Encourage good hand hygiene
There's no evidence that COVID-19 can survive in drinking (or waste) water. This means that a coronavirus is not known to infect the water system inside a drinking water dispenser.
The known sources of transmission and infection are through respiratory (breathing in) and contact (touching) with the virus. Of these, the only risk to users is the external contact surfaces of the dispenser, especially the controls. Therefore, these external surfaces carry the same risk as any other surface in the working environment.
Encourage employees to continue with good hand hygiene and ensure appliances are cleaned regularly, particularly contact points and the dispense faucet. Government guidance recommends that staff wash their hands as often as possible for a minimum of 20 seconds.
In addition to these tips, it's advisable to increase communications with staff about the steps you've taken to ensure water dispensers and other equipment are safe to us.
Other resources
About coronavirus and drinking water dispensers
The correct way to clean and sanitise water dispensers
Water dispenser buying guide for offices